One of the best things about going on holiday is getting a change of scenery. Spending some time in a different environment, away from your normal daily routine can help you to feel refreshed and inspired – and with the number of unique places to stay in the UK growing all the time, you don't have to go abroad to find exciting or unusual accommodation.
In fact, we come across interesting accommodation every day at The Tourist Trail – so we thought we would share some of them with you.
Here is a list of ten of the most unique and quirky places to stay in the UK…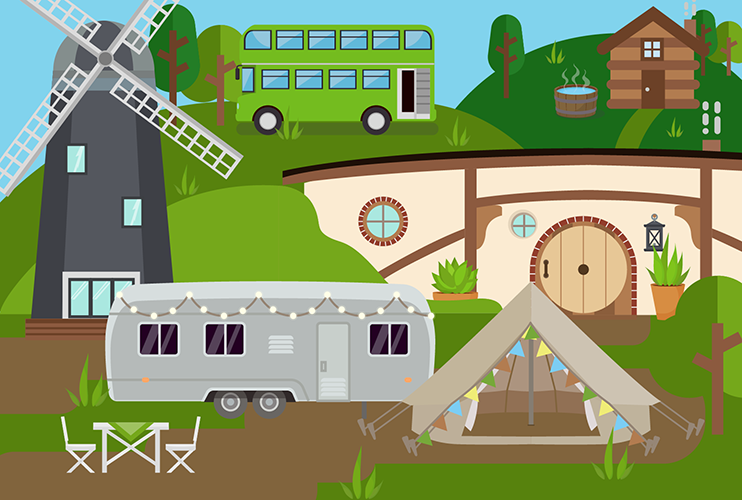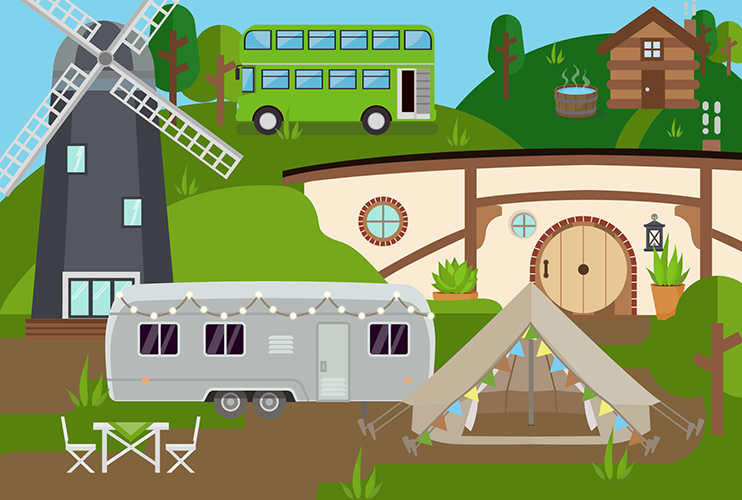 ---
1. A Hobbit Hideaway
West Stow Pods, Suffolk
West Stow Pods in Suffolk are the ideal accommodation choice for the discerning Hobbit in search of adventure, or anyone seeking somewhere peaceful to stop for a night or two en route to an important quest.
Pod Hollow offers all the necessary home comforts you would require, from familiar Tolkien-esque circular doorways and homely rustic architectural details – to a warm, cosy fireplace and a comfy chair. Perfect for reading a chapter or two of your favourite tome before retiring to your comfy bed for a good night's sleep…
---
2. A Windmill
The Windmill, Suffolk
Looking for something romantic? This one is for you.
The Windmill in Suffolk offers a unique alternative to a boutique hotel break. This converted windmill provides breathtaking panoramic views from a unique vantage point, along with modern features and luxurious interior design.
Equipped with its own raised viewing deck – complete with telescope, it is the perfect place to set up for a romantic evening of stargazing, listening to music on the ceiling speakers, and sharing a bottle of chilled wine from the built-in wine fridge.
---
3. A Vintage Double Decker Bus
Olive, Hampshire
Meet Olive.
Olive is a converted vintage double decker Dublin bus.
Having retired from her days in public transport, she now sits in a peaceful field in the Hampshire countryside, surrounded by wildlife and friendly horses.
Fully kitted out with everything you would expect from self catering holiday accommodation, as well as a wood burning stove, barbecue, and fire pit, Olive is a great choice if you're looking for somewhere with a bit of character.
---
4. A Treehouse
Forest Holidays, Gloucestershire
There's something very calming about woodland areas. Which may help to balance out the excitement of SLEEPING IN A TREEHOUSE.
Forest Holidays offer log cabins in multiple locations throughout the UK, but without exception, the most exciting option has to be the Golden Oak Treehouse.
From your secret hideout, you can explore the woods, toast some marshmallows, or just enjoy the sounds of nature as you relax in a hot tub.
---
5. A Victorian Barn
The Victorian Barn, Dorset
If you're the kind of person that enjoys civilised pursuits, such as reading historical fiction or sipping tea from dainty china cups, you'll love this one.
The Victorian Barn is a collection of self catering Victorian barn conversions, located 'in the heart of Thomas Hardy's Dorset'.
With rooms boasting grand names such as the 'Victoria and Albert Suite', and the 'Games' room, this is a great place to stay to get some inspiration.
---
6. A Retro Motoring Themed Boutique Hotel
The Pitstop, Essex
Think 1950s diner meets a classic car collection, and you have The Pitstop.
This lovingly decorated Essex hotel is a vintage car lover's dream. The kitchen resembles a retro American diner, and a continental 'help yourself' breakfast is included in the (very reasonable) room rate, so you can make yourself at home and take your pick from the fully stocked fridge. And if you don't feel like reading the newspaper as you sip your morning coffee, there is an original Pin Ball machine to keep you entertained.
Should you plan to venture out during your stay, you can even hire a Morgan sports car to hit the streets in style.
---
7. A Fairytale Tipi
Boutique Tipi Parties, Warwickshire
If you enjoy themed Birthday parties or get overly excited by party decorations, this option is for you.
Boutique Tipi Parties in Warwickshire offer pop-up glamping villages. They have a number of bell tents and tipis that can be set up according to almost any theme you can think of, so you can tailor your accommodation to create the perfect atmosphere.
If you fancy a girly weekend away, you can opt for a fully decorated tent with comfy mattresses, scatter cushions, a chandelier, and a cocktail making area. Or why not opt for a Vintage Tea Party theme, or a Boho Festival theme?
This is also a great choice for children's Birthdays, as they can provide decorated tipis for themed sleepovers based on the child's interests – how about a woodland fairytale theme or a flamingo theme? The possibilities are endless…
---
8. A Retro Campervan
Happy Days Retro Vacations Campsite, Suffolk
If you're looking for a family holiday with a quirky twist, why not stay at Happy Days Retro Vacations Campsite in Suffolk.
These retro kitsch American Airstream caravans each have their own character and name – from Dee Dee, the Southern Belle, to Betsy, the Sassy American Beauty.
The campsite is car-free, so children can play on the grass whilst the adults light the barbecue.
---
9. A Retreat for Animal Lovers
The Retreat, Kent
If you prefer animals to people, you'll feel right at home at The Retreat in Kent.
This not-for-profit animal rescue and sanctuary centre has comfortable wooden lodges, each suitable for up to four people.
If you want to spend your free time giving something back, you can also volunteer to look after the adorable animals during your stay! Perfect for a feel-good retreat.
---
10. Your Dog's Choice
Westleigh B&B, Devon
Westleigh B&B in Devon has a distinctly canine vibe. From cushions to artwork, there are subtle hints throughout the B&B of just how much the owners love dogs.
They take the idea of 'dog friendly' to the next level. This is the kind of place that your dog would take you on holiday if you were to let him choose.
Facilities include dog grooming and dog sitting services, and in your room your dog will find a complimentary bag of Dr John Grain Free Dog Food, produced by Gilbertson & Page.
On arrival you will be welcomed with an afternoon tea with homemade scones, and of course your dog will also be welcomed with delicious homemade treats.
---
Looking for quirky places to stay in the UK?
Click the button below to search by location for accommodation near you
---