---
What we did…
With Brexit looming and the number of staycations on the rise(1) – we wanted to conduct an up to date report to find out which county people favour for a UK staycation and why.
We surveyed over 2,100 people to find out the UK's favourite staycation destination.
We asked them to choose their favourite county and to explain to us their reasoning behind it.
How we did it…
In order to draw unbiased results, we surveyed people of all age groups (18+) across the UK.
We collated the responses in such a way that we were able to identify not only the breakdown of votes each county received but also the factors people take into account when choosing a staycation destination.
---
With an impressive 13.73% of the votes going to Cornwall, it's clear to see why this idyllic county has been voted the number one staycation destination. In fact, the South West of the UK occupies the top 3 spots with Cumbria coming in 4th place. Norfolk rounds out the top 5 while, perhaps surprisingly, London sits in 9th place with just 2.69% of the vote. In fact, all but one county across the UK received votes. You can find the full set of results(2) at the bottom of this page.
Robin Williams, director of The Tourist Trail, had his say on the results: "I think it's testament to UK tourism and the growing Staycation industry that we have seen so many varied counties being voted for with such impassioned reasoning from the respondents. As for the UK's favourite staycation destination, Cornwall, complete with its picturesque coastlines, breathtaking landscapes and a true sense of character – in my opinion it's the closest you can get to being abroad without hopping on a plane! A worthy winner."
Cornwall voted UK's favourite staycation destination
The top 3 reasons to visit Cornwall for a staycation as expressed by the respondents:
1. Beaches
With miles of glorious coastline, Cornwall is renowned for it's scenic coastal landscapes. From beautiful sandy beaches perfect for a day out with the family to the vast amount of dog friendly beaches, there is plenty of choice.
Survey participants said:
"It has the most spectacular beaches in the UK with beautiful coves and clean waters"
"I love the relaxed lifestyle, beautiful scenery and Caribbean looking beaches. Cornwall is such a lovely place with lots to explore"
2. Warm Weather
Cornwall's position in the South West of the UK means that the sub-tropical temperatures and warm ocean currents make the region one of the most desirable places to visit for those looking to experience a warm weather holiday within the UK.
Survey participants said:
"The beaches are amazing. It is like being abroad"
"It is like being abroad, but without the hassle"
3. Surfing
As well as being famous for their exceptional pasties, Cornwall is perhaps equally renowned for surfing. With competitions held each year for the professionals along with opportunities for beginners to hone their skills along the quieter shores, surfing remains one of the main reasons people wish to the county.
Survey participants said:
"Great for surfing"
"Glorious beaches, great surf, beautiful countryside, fantastic walks"
---
What People Look For When Choosing a Staycation Destination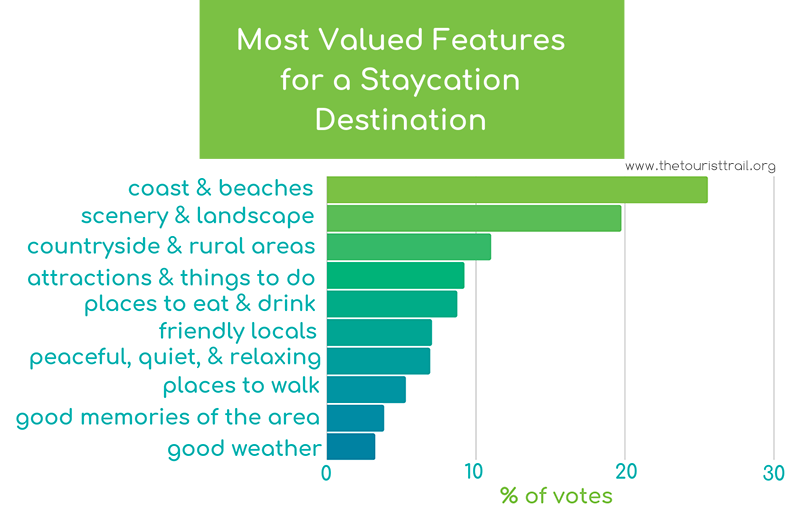 Based on the results we were able to draw conclusions as to what people looked for in a potential staycation destination.
As you can see, coastal counties were very much sought after for those looking for a UK break while the scenery and landscape is also of high importance.
Elsewhere, local attractions and places to explore were high on the list, with people keen to identify areas with pleasant walking and scenic trails.
---
---
---
Full Survey Data
Below you'll find the full set of votes for each county. This data was collected by The Tourist Trail over a 2 week period in July 2019.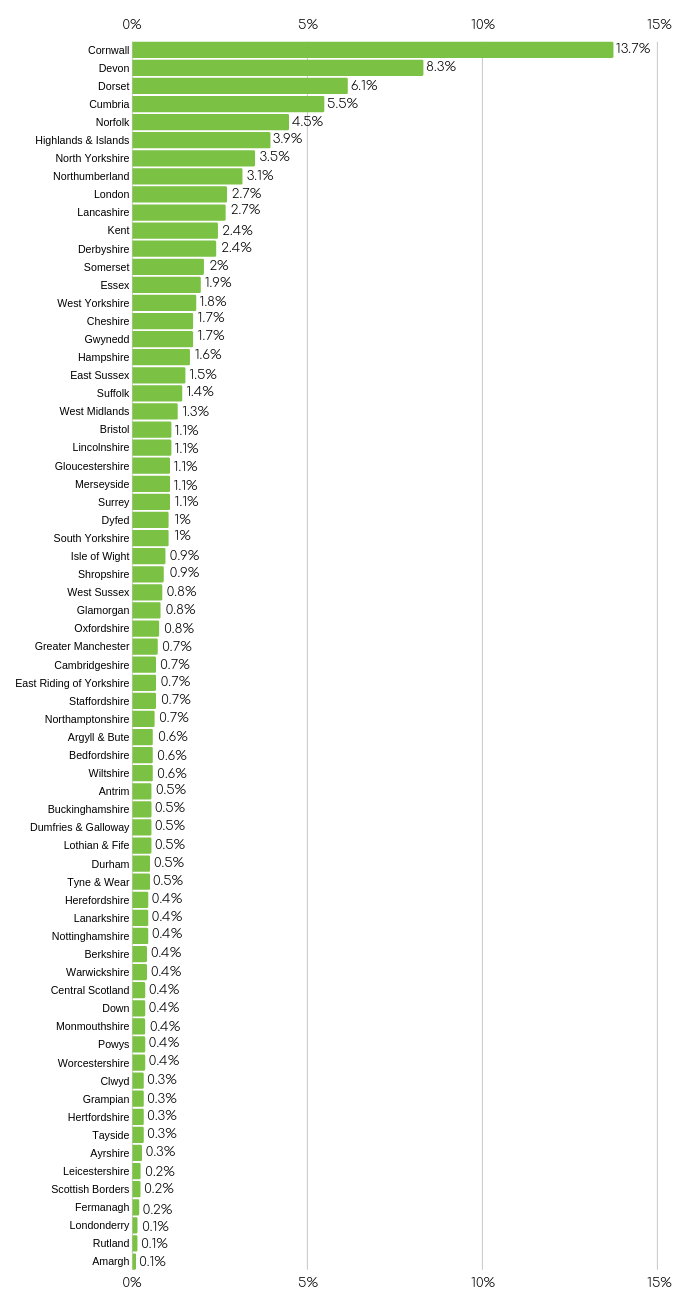 ---
Sources:
(1) http://www.travelweekly.co.uk/articles/332855/millennials-drive-demand-for-staycations
(2) Full survey data from The Tourist Trail, The UK's Favourite Staycation Destination conducted in July 2019