This post was written by Huda, aged 16, who entered our Young Persons' Writing Competition 2019.
---
I had a cold. Sniffling and suffocating. What I needed was a long bath and a steaming mug of tea. But unfortunately, we were on our way to towering peaks, deep treacherous waters and staggering cliffs. How convenient, I had thought with a bitter satire.
My sour mood stuck to me like a faithful friend throughout the long drive. I thought this toxic friend of mine would stay with me for the rest of the day and be the ruin of our time in the magnificent northern landscapes.
Lake Windermere- where we stopped first. I thought I knew all about it, from those endless geography lessons- over 18 kilometres long, 219 feet deep, crafted from the colossal glaciers that conquered Britain centuries ago… but seeing it in person, the extensive vastness of it was breath-taking. We could barely see a quarter from were we stood, enshrouded in the almost mystical foliage. The contrast of the deep pine green and umber against the racing hues of the distant waters was so picturesque. The steepest peaks and arêtes glowered down at us from their great heights.
It was still the water that was most startling. I climbed up to the stone ledge, avoiding peering down at the immense tangle of brambles beneath me. It was as if someone had taken a paint brush and swiped swathes of azure and ribbons of cobalt across an ultramarine backdrop. I snapped a photo and promised myself to paint this very moment later.
My eyes were fixated on the rapid undulations of hills sinking down to lakes, lakes reaching up to gentle peaks, as we drove to Rydal Water. We began our adventure through looming conifer trees that obscured the outside world. Eventually we reached the lake. It was different to the monstrous beauty that we had just witnessed. It was serener. The waters stiller, clearer.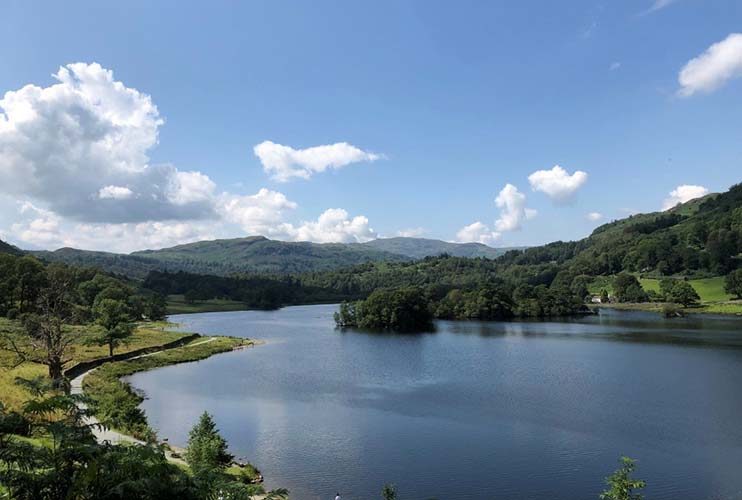 I will admit that the walk we accomplished that day was the most spectacular I had ever done -despite my rotten mood from earlier. It was as if the crisp air was giving me a sense of wellbeing that no remedy could ever provide.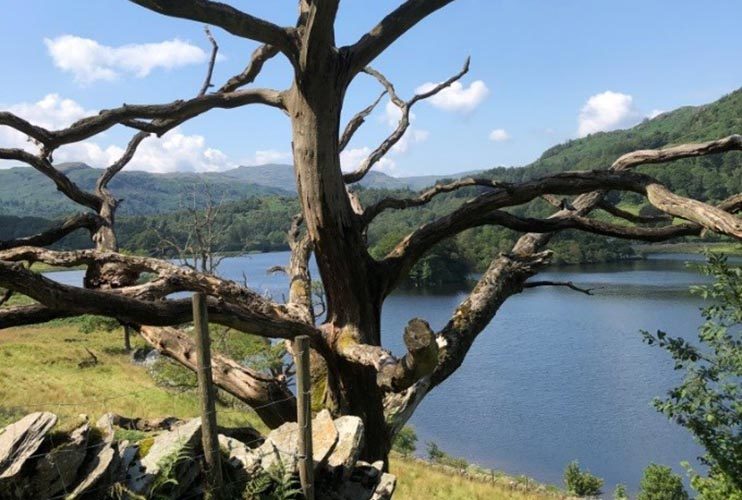 While hiking up a rocky terrain I thought that it was this wondrous environment that had led to the greatness and recognition in the names Wordsworth and Coleridge. Clambering up a white gravelly path we passed a dead tree. Anywhere else it may have evoked a gothic feel but here amidst the striking paintings of nature it was God's glorious architecture.
The warmth of the sun was subsiding as we approached the Rydal Caves. Again it felt as if we had leaped into an adventure novel. We gently hopped from rock to rock, entering the awning mouth of the beast. The water was shallow, trembling with the echoes that reverberated through the deep dwelling. What other creatures wallowed through these eddies of water?
The thought stayed with me as we continued on our adventure, the day ending with that fancied long bath and steaming mug of tea.
---
About the Author
Huda Javed, 16 years old.
Entrant- The Tourist Trail Young Persons' Writing Competition 2019