---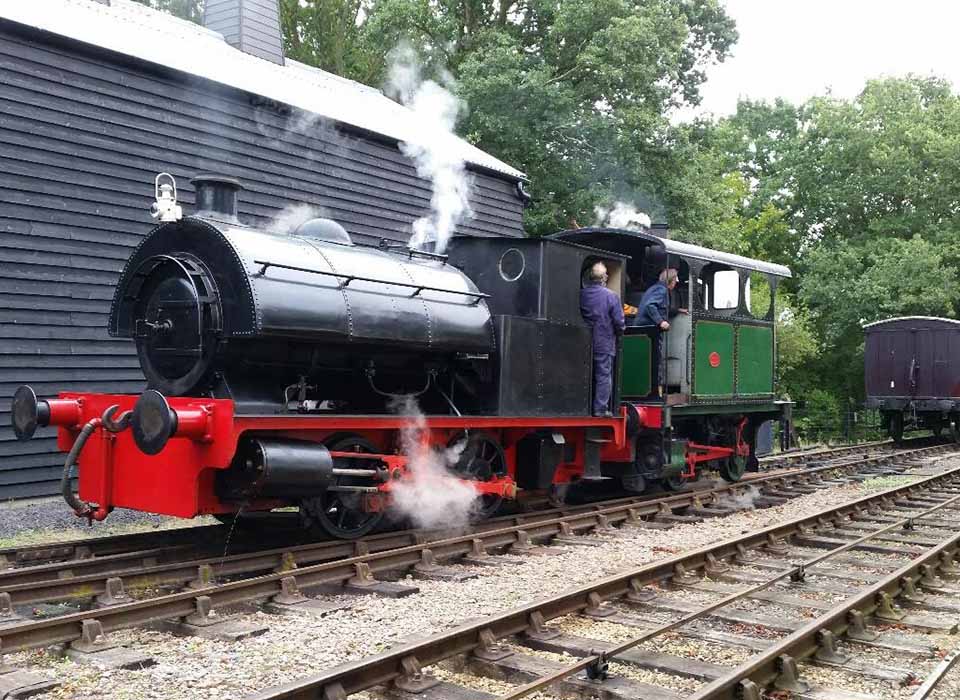 Suffolk lives and breathes history—and sometimes it huffs and puffs! Suffolk features many historic railways, and several lines still run with historic steam trains which are fully operational. Many operators of Steam Trains offer fantastic services, like the chance to drive a train, work in a signal house, wine and dine in a refurbished Pullman car, and enjoy miles and miles of Suffolk's finest countryside. Whether you're looking for a trip out for the family, or a special treat for the train enthusiast in your life, Suffolk Steam Trains and Railways can't be beaten!
Mid-Suffolk Light Railway
Wetheringsett, Stowmarket
The Mid-Suffolk Light Railway, known affectionately as 'The Middy' was a classic case of a railway built late on in the great railway age that never paid its way. This railway is the only standard gauge heritage railway in Suffolk. Indeed, it effectively went broke before it opened, but still managed to struggle on for 50 years! This fine example of quirky English history is remembered in Suffolk's only railway museum, also called the mid-Suffolk Light Railway Co., which is dedicated to keeping alive the memories of the Middy.
Click here to read more on Mid Suffolk Light Railway Museum.
---
Colne Valley Railway
Come and sample the atmosphere and take a ride on Colne Valley Railway, an award winning period country railway near Castle Hedingham in Essex (Suffolk fringe!). A really pretty line, currently one mile long, with relocated station buildings, signal boxes and bridges all lovingly restored and rebuilt. Come and visit the Garden Railway, Travelling Post Office Exhibition, large and varied collection of operational vintage steam, diesel engines and carriages and wagons that represent much of Suffolk's Railway Heritage.
Click here to read more about Colne Valley Railway.
---
Pullman Wine and Dine Services
Join us ride through history, travelling in luxurious Pullman coaches as they journey on a period country railway. A trip on Colne Valley Railway's wine and dine service is ideal for those special occasions, parties and family celebrations. Enjoy a three course luncheon or a dinner served in opulent splendour aboard our beautifully preserved Pullman train.
Throughout the season, bookings are also available for murder mystery & magic dining services!
During the Summer you can ramble through the Farm Park and enjoy the 30 acres of peaceful, natural countryside by the River Colne. Apart from the wealth of traditional farm animals some regular sightings have included: Moorhens, Woodpeckers, Kingfishers, Herons and Dragonflies.
Check Colne Valley Railway for opening times and Special Events throughout the year, including A Day Out with Thomas the Tank Engine.
---
Bure Valley Railway
Bure Valley Railway is Norfolk's longest fifteen inch gauge line runs between the ancient market town of Aylsham and Wroxham, the 'Capital of the Norfolk Broads' with country stations serving the villages of Brampton, Buxton and Coltishall.
The 18 mile round trip runs through the picturesque Bure valley countryside following the meandering river through meadowland and ancient pasture stopping occassionally at small country villages. The railway has its own 'Whistlestop Restaurant' at Aylsham station which sells everything from hot and cold drinks, light snacks to full meals (smaller portions also available for children).
Bure Valley offers excellent opportunities for those who enjoy walking and cycling. Walkers can join any of the Bure Valley Railway's scheduled services. There are also intermediate stations at Brampton, Buxton and Coltishall for those walkers not able to walk the full nine miles between Aylsham and Wroxham. Cycles can be carried aboard scheduled Bure Valley Railway services, at a maximum single journey rate of £3.00 per cycle (subject to availability of space – please check beforehand). This means that you now have the option of walking or cycling in one direction and catching the train back.
Along with it's standard carriage fleet, there are also six specially designed coaches which can carry wheelchairs easily. Each has a special seating arrangement plus double doors on both sides and detachable ramps. The Bure Valley Railway is proud to be probably the first railway of any sort in the region to provide six carriages in which wheelchair users can be accommodated in comfort and security, along with their fellow passengers, friends and family.
With all these options available, there's never been a better time to check out Suffolk Steam Trains and Railways.
---
While you're in the area, why not explore…