Our Guide to Glamping in Suffolk
---
Camping vs Glamping Holiday in Suffolk
A camping holiday in a tent sounds like a simple way to escape from the stresses of day-to-day life. But many people are looking for a holiday that allows them to not only enjoy nature but also having the added luxury of some creature comforts. These could include proper beds, luxurious linens, en suite bathroom's and even a hot tub. Glamping is most definitely much more than just living out of a posh tent!
The cost of a holiday is often a consideration for most. This is where camping is usually seen as the cheap option for a get away break.
But planning and packing for a camping holiday usually involves not only filling the car to the brim (including the roof top box) with everything including the kitchen sink and then being filled with the dread of thinking that you have forgotten something important! 
This is where the wonders of glamping comes into play.
---
Glamping Pods, Bell Tents & Cabins in Suffolk
---
Glamping Pods, Hot Tubs & The Suffolk Coast
A Suffolk glamping holiday removes that stress as everything that you need for a relaxing holiday is provided. Some of our favourite sites also offer additional treats such as breakfast baskets, BBQ boxes, afternoon tea and even a restaurant.
Glamping offers something for everyone, including couples, families, and friends. The variety of accommodation that is available at glamping sites on and around the Suffolk coast is excellent! Some options include canvas safari tents, yurts, shepherds' huts, wooden Canadian style lodges and glamping pods.
What makes these sites so popular is a combination of being nestled in natural surroundings, having the opportunity to cook and eat outside and being able to fully enjoy the wonderful freedom of open spaces.
Glamping welcomes children, adventurous families, couples, and even dogs are welcome at some sites. There's no need to worry about being cold either when glamping! Enjoy the heat from log burners, fire pits and BBQs as well as plenty of cosy blankets and soft throws to huddle under. Or make the absolute most of luxury of glamping by relaxing in your very own private hot tub in many of the Suffolk sites.
Watch the stars from your bed in a Mongolian yurt or cosy up in a warm shepherds' hut, the choice is up to you.
---
Shepherds Huts, Lodges & Cabins in Suffolk
---
Glamping Sites in Suffolk with The Tourist Trail
We showcase a wide variety of glamping sites located throughout the UK for you to choose from and book online.  
Perhaps you are planning on attending a festival but don't want the full on-site camping experience or you are visiting an attraction but want to try a different kind of accommodation. 
Glamping in Suffolk is increasingly popular: the privacy and adventure of wild camping, mixed with luxury and home comforts you can't live without, can make for an exceptional camping experience.
Whether it's an adventure that you're looking for or a simple romantic retreat, you'll find it in Suffolk.
Then take a look at the amazing options that we have to offer below.
---
The Log Cabin at Five Acre Holiday Camp
A beautiful 2-bedroom log cabin, heated for all year-round comfort. There is a full kitchen and an open plan living and dining area. Situated on Five Acre Holiday Camp in the village of Wyverstone, Suffolk.
---
The Shepherds Hut at Five Acre Holiday Camp
The Shepherd's Hut has been sympathetically finished with wooden kitchen units and tops, dining area and storage and a snug double bed. The Shepherd's Hut is situated on Five Acre Holiday Camp and provides cosy accommodation for couples looking for a quiet holiday in the Suffolk countryside. There is a brand-new shower and toilet block on site.
---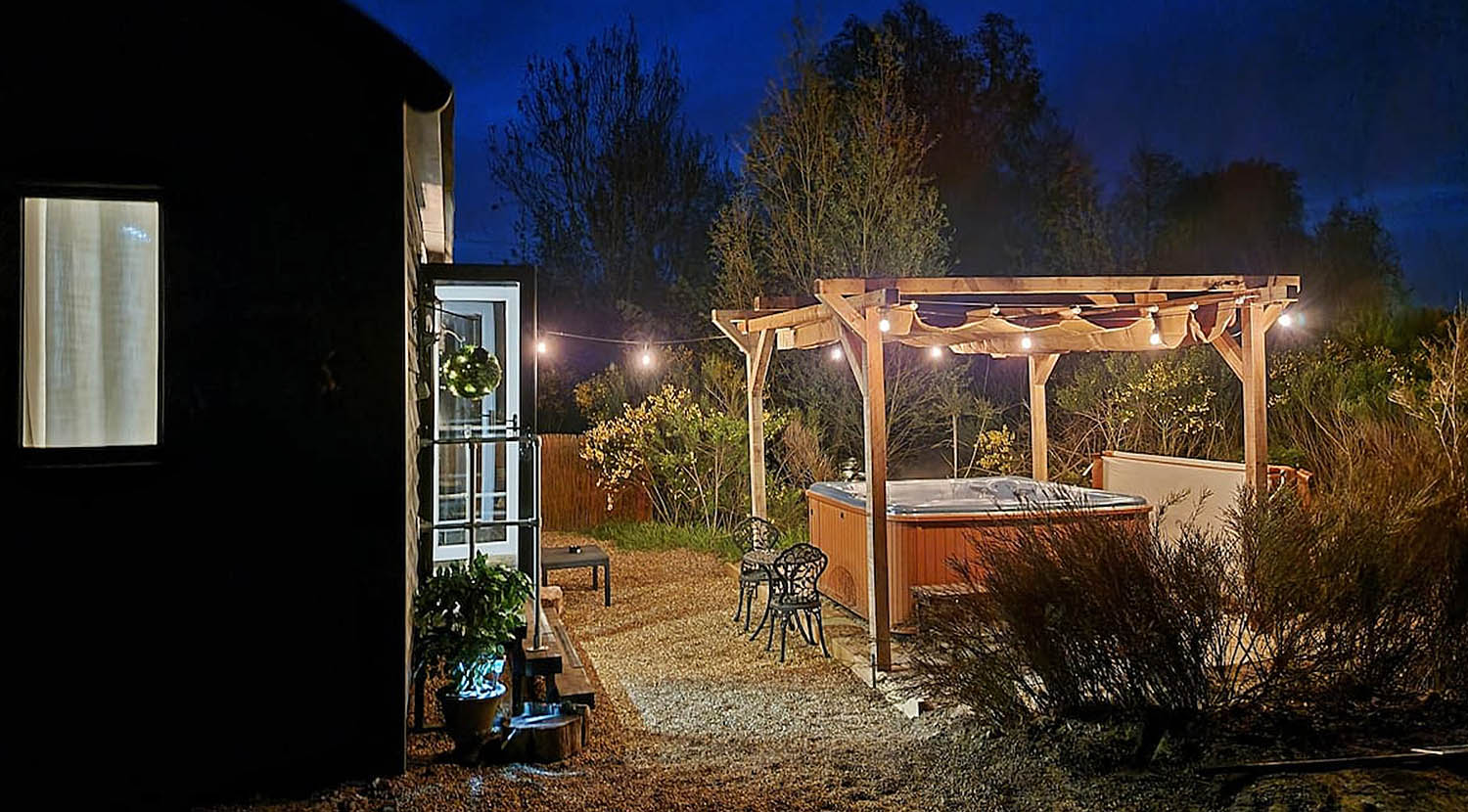 Back in Thyme Shepherds Hut with Hot Tub | Blackbrook Lodges
The Shepherds Hut is beautifully arranged with the luxurious hot tub located just a few steps away from the door. There's also a chimenea outside for a crackling fire to enjoy in the evening.
Other Available Blackbrook Lodges Properties
The Stables | The Duckhouse | The Willows
---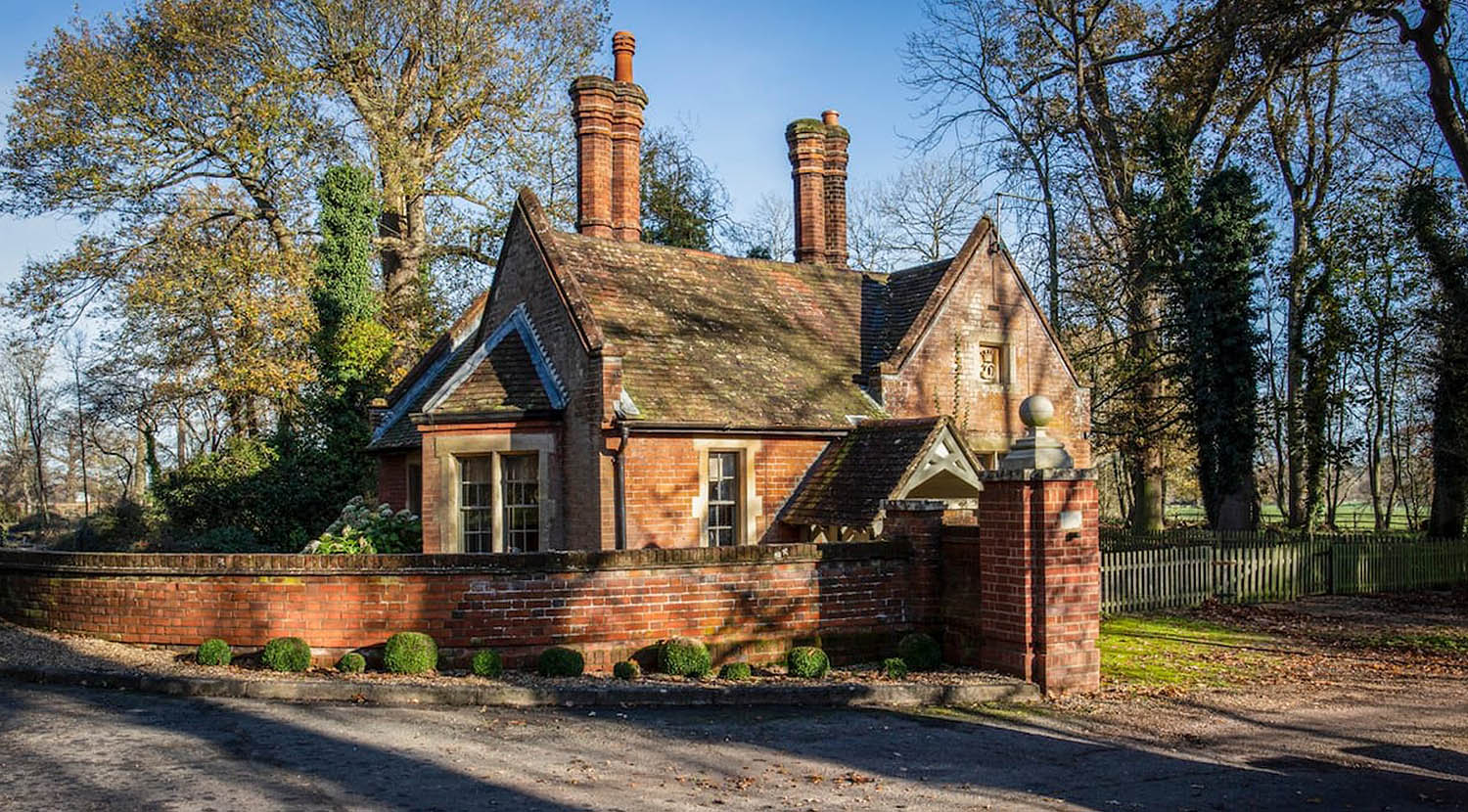 The Lodge at Glemham Hall
The Lodge is a detached cottage, at the entrance to Glemham Hall Estate and has been beautifully decorated and furnished for guests to enjoy a holiday in the Suffolk countryside. Country living with a real log fire and a modern kitchen and shower room.
More about The Lodge at Glemham Hall here
---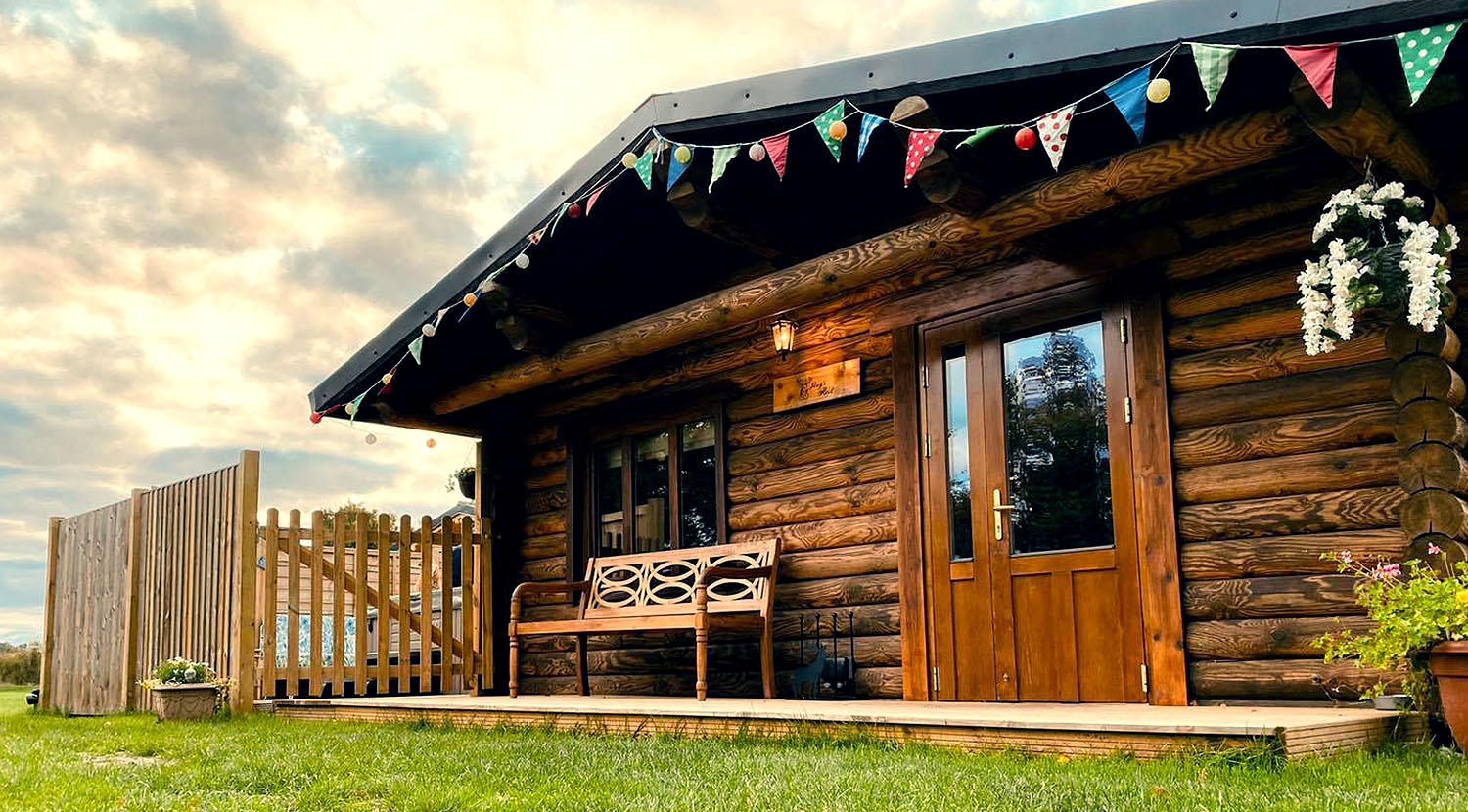 Stag's Rest Canadian Style Log Cabin at Newlands Park
Stag's Rest, a Canadian style log cabin comes complete with a private hot tub, in an ideal location for exploring the east coast.
Other Accommodation at Newlands Holiday Park
Robin's Rest | Ram's Rest | Nellie's Rest
Learn more about Stag's Rest at Newlands Park here
---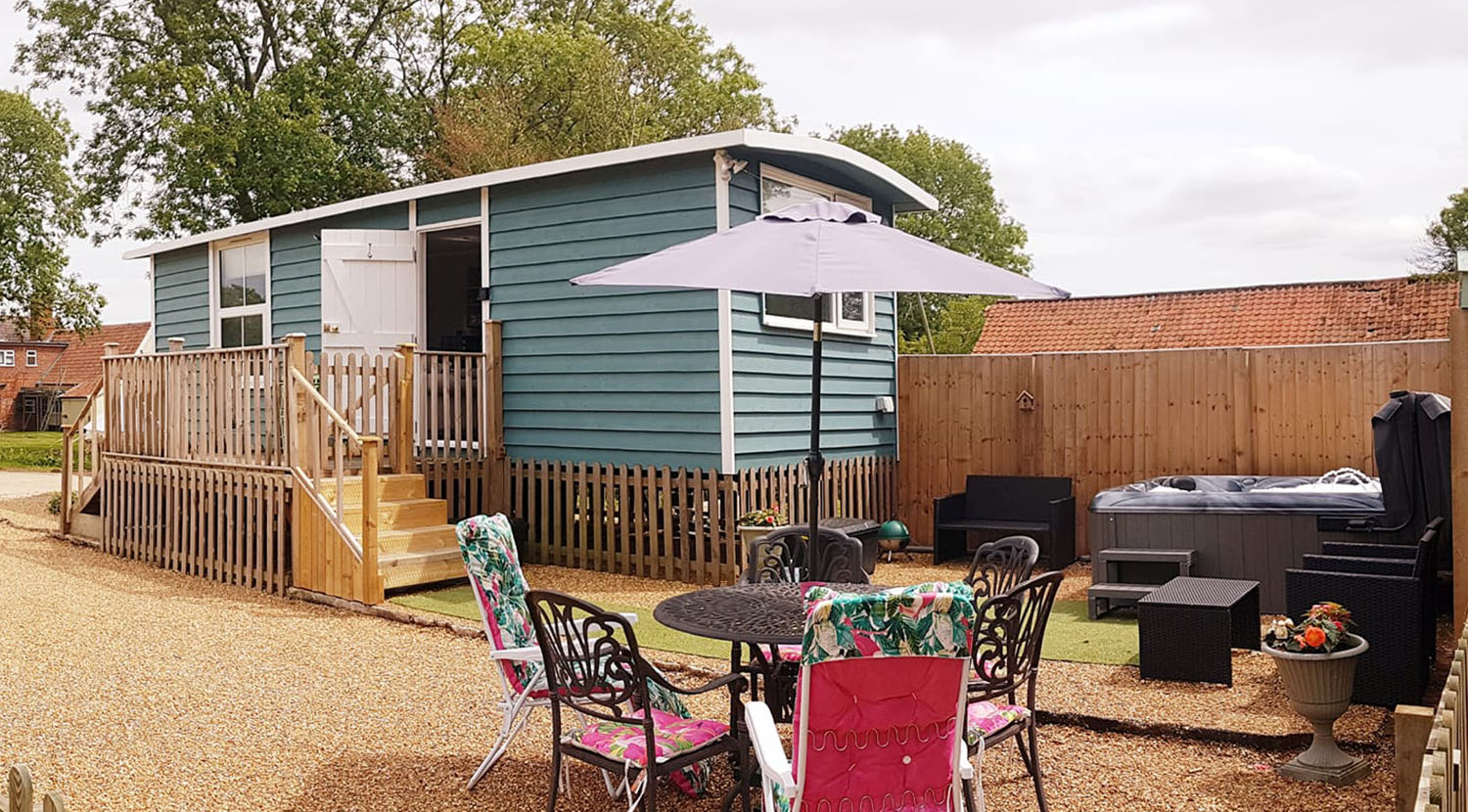 Herbert's Land Shepherds Hut with Hot Tub | Redlingfield
Herbert's Lane is a very special Shepherd's Hut, small but beautifully furnished and fully equipped, even with your own shower room. No need to pop your wellies on to cross a field to the shower block! Situated on a working farm in Suffolk just 5 minutes' drive to the market town of Eye.
Learn more about Herbert's Land Shepherds Hut here
---
West Stow Pods
Does a spacious subterranean dwelling with large, round doors and a hill-like presence sound familiar to you? If so, you might be thinking of the iconic hobbit holes from a certain Tolkien fantasy!
West Stow Pods offer just that: uniquely beautiful dwellings, perfect for couples and groups alike. Capture the fantastical magic of the Shire, and take on an adventure of your own with West Stow Pods.
You'll be able to choose from Pod Hollow, a hobbitesque home with modern furnishings and amenities, a Megapod, or glamping lodges. Take a look at their full range online.
---
Cosy Camping Suffolk
Whilst there are plenty of pitches for traditional camping, most people are drawn to Cosy Camping Suffolk for their innovative and inviting luxury camping pods. These 'log' cabins are cosy, warm and provide everything you'll need to enjoy a glamorous, yet natural glamping adventure.
With 'family' pods available for up to 6 people, there will be ample room for you to live out the adventure of a lifetime.
Each pod also has its very own patio, complete with BBQ, exclusively for you to use. If you do feel like making friends, you're still within walking distance to your nearest neighbours.
---
Alde Garden
A secret garden in the heart of Suffolk, Alde Garden is a quirky, eclectic collection of unique, original and bespoke glamping options. From gypsy caravans to Mongolian yurts, bell tents and even a treehouse, there is a great selection of charming places to stay.
Alde Garden is advertised as an 'antidote to busy lives', and we can't help but agree. There are plenty of activities in the quirky retreat to distract you from your everyday responsibilities, really providing a way to wind down and relax.
Visit the great local diners and pubs, go for nature walks through thoughtfully designed gardens or enjoy the views from the creative tree-mounted jungle shower.
---
Boundary Farm Cottages
If you're looking for peacefully tranquil, relaxing and laid back glamping in Suffolk, look no further than the rural Boundary Farm Cottages. Set across 6 acres of vibrant meadows, colourful fields and enchanting forests, it has everything you need for a quiet camping holiday.
With plenty of different cabins and cottages on offer, such as a Victorian farmhouse, shepherds huts, a wagon and a hayloft, you're sure to find a charmingly ideal dwelling that perfectly suits your tastes.
Each cabin comes with free parking and ample space, giving you the freedom to really enjoy your time away from the bustle of your day-to-day life.
---
Happy Days Retro Vacations 
Picture this: you've had a long day exploring under the mid-summer sun, looking for somewhere to relax for the evening. At Happy Days Retro Vacations, this slice of 'vintage Americana' can become a reality!
Happy Days is a glamping site in Suffolk – with a difference. You won't find cabins, tents or yurts here, but distinct, authentic and shiny American Airstream caravans that have all been modified and updated to bring you an unforgettable glamping experience. As one of the top 20 sites in the UK, it isn't hard to see why it is so popular.
---
Hidden Meadows
Hidden Meadows is a 25-acre plot of land, consisting mostly of wildflower fields, rural countryside views and thick forests. It's historically very significant, with some areas dating back to Saxon times.
Hidden meadows set the scene for a beautiful, relaxing week (or weekend) away. With large safari tents, all kitted out with modern amenities including heating, stoves and luxury furnishings, you'll be at the peak of comfort.
Fully stocked lakes, peaceful walks alongside streams, and endless nature hikes make Hidden Meadows a great place for time to yourself.
---
Run Cottage Touring Park
Run Cottage, though it is known as a caravan and touring park, is a great place for any glamper who would like to stay rural enough to enjoy the peace, yet still remain close to a local town. Run Cottage is situated right on the doorstep of Woodbridge, a charismatic market town.
Each pod is spacious, with heating, set inside a curved 'tunnel'. Run Cottage has a variety of luxury glamping pods alongside their premium caravan and motorhome pitches, containing everything that you need for that break that you deserve.
---
Wantisden Park
At the pinnacle of luxury is Suffolk's own Wantisden Park; a private holiday destination placed against the infamous heritage coast. It consists of uniquely shaped, custom-build pods in an assortment of shapes and size, all of which invoke exactly the level of cosiness you'd hope for in a glamping staycation.
From bespoke wooden tents to towable carriages, each lodge at Wantisden Park is extraordinarily distinct; beautiful finishes complement the hand-made pods to give it a very prominent look.
At Wantisden, you'll be able to explore the Heritage coast, enjoy fine dining at Wantisden Hall or simply have a quiet, relaxing stay in your luxury pod.
http://www.wantisden.co.uk/wantisdenvalley
---
---