Click on either of the buttons below to browse through our range of Attractions in Suffolk and our What's on in Suffolk sections.
---
There's a wonderful range of things to do in Suffolk to suit everyone's taste and pocket. Here's our Guide to things to do for individuals, couples & families that are slightly less vigorous than our Days Out Guide and our Kids Days Out in Suffolk feature for younger children. You can also find a full guide to Rainy Day activities in Suffolk if the weather isn't kind, and what's on in Suffolk for an up-to-date listing of current & forthcoming events. If all these things to do tire you out then be sure to check out our places to stay in Suffolk guide.
Historic Interest
Suffolk has things to do aplenty as well as a lot of places of historic interest but they don't get much more historic than Sutton Hoo, the burial ground of Anglo Saxon Kings. There's plenty to do at Sutton Hoo, which is run by the National Trust and includes an exhibition hall with video and a full size reconstruction of the ship's burial chamber. There are Guided Tours and special events during the summer season. See Sutton Hoo for details and to find their current opening hours.
Kentwell Hall
Kentwell Hall is one of England's finest Tudor houses, with a difference! It is home to Suffolk Punch horses, Norfolk Horn Sheep, Long Horn, British White Cattle and the Baudet du Poitou Donkey; less than 60 in the UK and 800 in the world. The wonderful gardens include a wildlife pond and the ancient Yew trees with a modern hedge of 'Pied Piper' topiary (see pic above). The Stable Yard Tea Rooms are open for refreshments and light lunches. Kentwell Hall houses many special events throughout the year; Tudor re-enactment weeks, Kentwell through the Ages, Magical Weekends and the award winning 'Scaresville'. Plus musical and outdoor shows. Click on the link above to see what's happening at the moment.

Bishop & MIller Auctioneers
If you're a fan of antiques Bishop & Miller Auctioneers are one of the region's leading independent Auctioneers and Valuers. Based in Stowmarket, they are always seeking items for auctions, so if you're sitting on a treasure trove, head down and see them or attend one of their free valuation days. They also offer home visits. Or if you're looking to buy, visit one of their auctions for an interesting and varied selection of items.
Castles
Suffolk has a few well preserved and impressive CASTLES including Framlingham Castle (above), and Orford Castle, below, which are both run by English Heritage. Orford was the great keep of Henry II. You can visit the castle every day and explore the maze of rooms and passageways with a free audio tour. You can also enjoy spectacular views over the beautiful Orford Ness in this lovely area of Suffolk. (see Orford Castle, pictured below)
If you're coming to Suffolk from Essex then a trip to Castle Hedingham to visit Colne Valley Railway is a must – it is always rated one of the top Visitor Attractions in Essex. Colne Valley is a really pretty line with relocated station buildings, signal boxes and bridges all lovingly restored and rebuilt. There's a lot to see including the Garden Railway, Travelling Post Office Exhibition… Thomas the Tank Days and during the Summer you can ramble through the Farm Park and enjoy the 30 acres of peaceful, natural countryside by the River Colne. Apart from the wealth of traditional farm animals, some regular sightings have included: Moorhens, Woodpeckers, Kingfishers, Herons and Dragonflies.
Read our guide on historical places in Suffolk and English Heritage in Suffolk to find out more.
Railways
There are several historical railways to visit in Suffolk. If you are a fan of steam trains then your trip would not be complete without a trip to the Mid-Suffolk Light Railway or 'The Middy' – Suffolk's only preserved standard gauge heritage railway. Learn about the fascinating history of the unfinished tracks, visit the museum and of course, enjoy a steam train ride in a genuine Victorian 4-wheel coach! There are original buildings, passenger and goods vehicles, displays, artefacts and exhibitions. The Middy also holds several special event throughout the summer, during school holidays and on bank holidays, see Mid Suffolk Light Railway for dates, ticket prices and opening times.
Historic Villages
The National Trust have many sites in Suffolk ranging from the glorious Ickworth Park and Gardens, the historic Guildhall in Lavenham, Dunwich Heath with its magnificent heather and beach… and lots more. For full details of their Suffolk sites and whats on see The National Trust in Suffolk.
We have many, many historic and attractive towns & villages in Suffolk, and spending a day discovering them is a great thing to do if you're new to the area. For example, Lavenham is a Medieval village rich in history and wandering round it is like stepping back in time. You can visit the 16C timber framed Lavenham Guildhall, a National Trust property to get a feel for Suffolk's wool history, and Lavenham Little Hall, a late 14th Century Hall House on the main square which is now a small and fascinating museum. For more information on Lavenham please click on the link above, and for more on our Museums please see Suffolk Museums.
Family Fun
For what's on & events happening during the school holidays click on Half Term Activities and Summer Holiday Activities.

Puzzle Rooms
The Suffolk Food Hall is delighted to provide two enigmas: to Escape the Gamekeeper's Bothy or solve the mystery of Prof Campbell's disappearance. Our room challenges combine authentic props and unique Suffolk themes. Based in farm buildings at the Suffolk Food Hall, underneath the Orwell Bridge, the adventures encapsulate the heritage and farming background of the site and surrounding area and are suitable for ages 9 to 90. To find out more see: Puzzle Rooms.
Glass & Craft Workshops
Glass & Craft Workshops are a family run craft workshop centre, bear building workshop & local craft gift shop based at Kersey Mill near Hadleigh, Ipswich in Suffolk. They offer a wide range of fun craft activities to suit all ages including; Glass and ceramic painting, decopatch, Wood painting, Fabric fun, Sand Art, Mosaics and Bear Building. Booking is not essential as they can seat up to 35 people at any one time but best to book during school holidays and weekends. During the Summer months there is also an outside craft area with children slide and sandpit.
Suffolk Escape Room
Try something totally unique at the Suffolk Escape Room in Saxmundham. The original war time Nissen Hut on the edge of an American style Trailer Park immerses 2-8 players into an Area 51 themed experience. Once inside players must find hidden clues and solve puzzles that will lead them towards escape. But players only have sixty minutes so time is of the essence. Suitable for ages 10-110. The room is wheelchair accessible, however at least one member of the team must be able bodied.
Bowling
Experience the fun of bowling at Namco Funscape. Along with ten-pin bowling they also offer a sports bar showing the latest sporting events and a gaming section perfect for kids of all ages.
The Suffolk Punch Trust
Visit The Suffolk Punch Trust near Woodbridge for a lovely day out for all the family. The Suffolk Punch is a local breed of draught horse that takes its name from the county of its origin and "Punch" from its solid appearance and strength. It is a heavy horse developed for farm work, notably ploughing, and is always chestnut in colour. These are rare beasts now days but, thanks to the Suffolk Punch Trust these gentle giants can still be appreciated in their native county. The Suffolk Punch Trust is home to the Hollesley Bay Colony Stud, the world's oldest stud farm for this horse, with breeding going back over 250 years! Today the Trust safeguards the future of this unique animal, and here you can see the horses and yearlings, rare Large Black Pigs, Cattle and Suffolk Sheep. There's a visitor centre and cafe, Heritage Garden stocked with local horticultural varieties of plants and shrubs, demonstrations, pet paddock and activity playground, and much more with regular events and festivals, so find out more about what's on at Suffolk Punch Trust here.
Stonham Barns
Stonham Barns offers a range of things to do in the heart of the Suffolk Countryside. Situated on the A1120 east of Stowmarket there are a variety of retail shops and leisure facilities including Fishing Lakes, Fit Club, Suffolk Owl Sanctuary where you can hold the Owls, Garden Centre and much, much more to ensure you enjoy your visit with us! Year round, admission to the complex is free and there is free parking.
Starglazing Ceramic Painting and Clay Studio makes for a wonderful day out for all the family. If the sun is shining you can enjoy the roof terrace from their great location at the top of the Suffolk Food Hall. Learn simple techniques such as mark making and surface printing that will help you create something really special. To find out more about what you can do and the opening hours, click on the link above.
Sizewell B Visitor Centre
For a more 'modern' experience, take a look at the Visitor Centre at Sizewell B Nuclear Power station near Leiston. Here you can find out all about about nuclear power station operations and how our electricity is generated from nuclear power. Pre arranged site tours are available but must be booked in advance.
Craft Loft Ipswich
Craft Loft provides a range of Craft Workshops giving you the chance to learn something new. Offering an outlet to provide people with their own art therapy session, to let everything go, have fun, learn a new skill and just enjoy what art has to offer. Click link to find out the varied range of workshops available.
Food and Eating Out
What with all these things to do and activities found in Suffolk, not to mention the vast and breath-taking countryside, you are bound to work up an enormous appetite when on holiday here!
So please see our guide to Food and Drink in Suffolk for ideas on where to eat in Suffolk, and information on our fantastic Farm Shops and Farmers markets.
Events – music, theatre, art exhibitions and more
There are ALWAYS lots of great events taking place in Suffolk so for some ideas on what's on please see our what's on in Suffolk guide.
Suffolk has a fantastic arts scene, with a great range of art galleries and theatres throughout the county. For those with a musical ear, Suffolk offers a wide range of concerts throughout the year, from amateur choirs singing in the their local Church to world class professionals playing in the converted malt house concert halls of Snape Maltings, featuring a wide range of musical genres.
Things to do in Suffolk
Spinning Wheel Theatre offers regular events during school holidays including a Summer School, plus other opportunities throughout the year for aspiring creatives, young and old, to get involved! They also put on professional performances which can often be found touring Suffolk. To find out what's on right now, see their link above.
Other things to do in Bury St Edmunds include a visit to the Greene King Brewery and Museum. Ickworth House, Park and Gardens is another National Trust property and is unusual in that it contains a rotunda and Italian Gardens (see Ickworth House) and the last working water mill in the UK at Pakenham Water Mill For more information on Bury St Edmunds, please see our Guide to Bury St Edmunds and Days Out in Bury St Edmunds,
The Suffolk Coast
If the weather is bright and you want to head for the Coast there are plenty of beaches to chose from, offering everything from traditional amusement arcades to the unique Amber Shop and Museum which follows the fascinating story of Suffolk amber, and features a number of beautiful amber carvings and artifacts from around the world. Find out more about a great day at the Beach by clicking on the link above.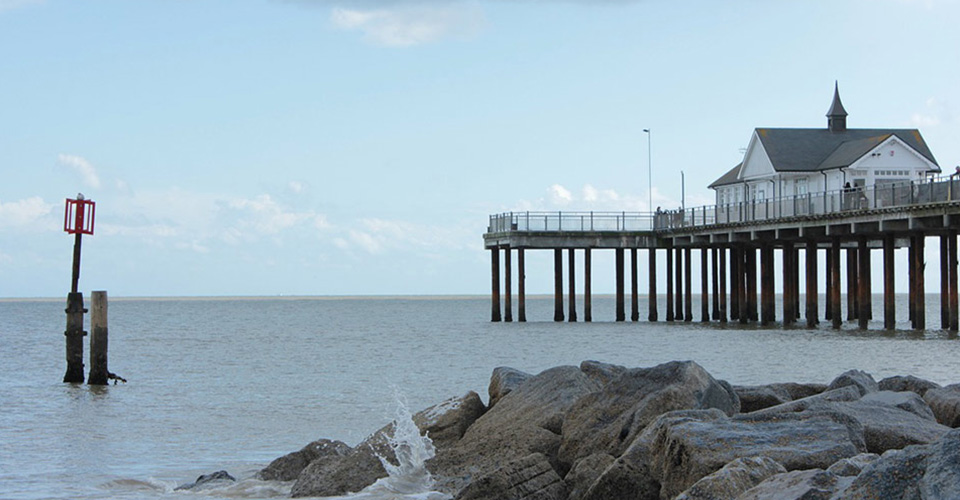 As you'd expect from a rural county with a rich agricultural history, there are many gardens in Suffolk, and possibly our most famous Garden open to the public is at Helmingham Hall which is owned by the Tollemache family, whose ancestors have lived at the Hall for the past 500 years, enjoy sharing their passion for the beautiful gardens. The gardens surround the impressive Tudor moated Hall set in a 400 year old ancient deer park. The rich traditional gardens are complimented by a wonderful balance of nature and the modern accents inspired by the current Lady Tollemache, a well-known garden designer and Chelsea Gold Medal Winner. Find out more about Helmingham Hall here, Suffolk Gardens open under the National Garden Scheme here, and other Suffolk Gardens open to the public here.
Or why not visit a a traditional working nursery where you can buy a superb variety of garden plants from the very site where they were grown. At Katies Garden Plant Centre not only can you pick up strong, healthy plants at a great price – you can also tap into the knowledge of experienced staff happy to offer advice whenever you visit. Whether you are looking for something easy, something showy or maybe something rabbit-proof the choice of plants on offer includes a large number of cottage garden perennials, premium quality bedding, annuals and patio plants at very affordable prices. They also offer a variety of services including hanging basket and patio pot filling, plant-sourcing, local delivery and collaborating with garden designers. Click here to find out more.
Bawdsey Hall
If you want to see Suffolk's wildlife up close, Bawdsey Hall is a must. There are regular wildlife tours, workshops, and events which provide a chance to appreciate nature whilst learning more about it. They also have a range of comfortable rooms available if you wish to extend your stay.
Go Ape
Go Ape is the UK's No.1 Forest Adventure. It's for anyone who likes to live life adventurously – you don't have to be a seasoned explorer to enjoy the experience! The Go Ape experience gets the adrenalin pumping, gets people out of their comfort zones and above all, it's just great fun. We hope to see you swinging through the trees soon!
Alton Water Sports
If you love to explore the high seas, Alton Water Sports Centre is for you! Based in 400 acres of beautiful Suffolk countryside, Alton Water is home to an active reservoir and training centre and is open every day of the year, excluding Christmas Day, to both members and day visitors. You can learn a new skill by taking part in Sailing, Rowing, Canoeing, Paddle boarding, Sculling or Windsurfing! Perfect for holiday activities, Stag Do's and corporate events.