This post was written by Amber, aged 10, third place winner in our Young Persons' Writing Competition 2019.
---
In a magical land, in a faraway place, hundreds of little fairytale lodges sit together in many small rings of magic and fantasy. The 'little folk' come out to play when the sun is high and all the children are away on their unforgettable trips to Alton Towers…
Excitement filled the air as our family was handed the key to this magical place. But we weren't the only people there. I was going to be sharing this experience with 27 others. 7 families were getting together for this amazing trip, ours included. My 16 best friends from across Aberdeen and Aberdeenshire were all coming and all of the parents too! Our ages range from 2-16 and everything in between! To cut a long story short, all of our Mums met at University and became best friends. Then when each of us were born we all became like a big family. Without them this trip would not have been the same.
Me and my sister wheeled our suitcases up the little cobbled path as we figured out our way to our lodge. When we arrived all of our friends were playing in the grass area in the cul-de-sac of lodges. We made our way to our lodge. It was lovely. The large circular door led into my Mum and Dad's room which had a double bed and on the wall above it there was an animated map of the enchanted village.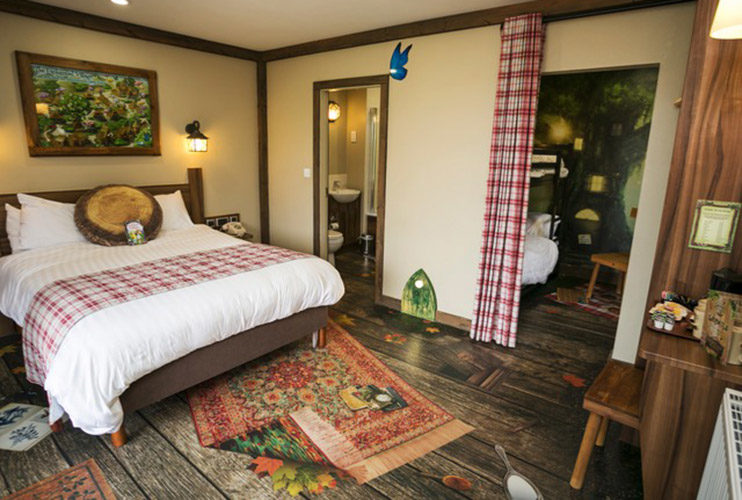 On the wall opposite there was an entrance that had a curtain across it. As me and my sister rushed to get a peek inside we realised that it was our room! It was small but perfect. It had a bunk bed and on the right wall there was a tiny window with a checked curtain. The feature wall was completely covered by a print of a tree with little windows and a mini door with a note on it that said 'Shhh little folk sleeping!'. So that was our fairytale lodge.
I was filled with excitement when I was finally allowed out to see my friends! After the 8 hour drive I was ready to get out and have some fun! All of the Mums and Dads sat in the benches outside our lodges whilst we played. As the sun began to lower in the sky there were some requests for food. But what were we to have and where would we get it from? In the end we decided on pizza. Then as the sun was just above the horizon we all said goodnight and went to our lodges to have a well earned rest.
***
In the morning we had an early start. We booked a table at 'The Crooked Spoon' restaurant which was the onsite restaurant for the Fairytale lodges. We met up with all of our friends outside and we walked along the path.  It was a lovely little place. It had old fairy music playing and a big breakfast buffet. We had a large table to fit us all in. There were framed posters around the room all about the 'little folk'. We ate up quickly and walked down the lane to the monorail.
Our monorail pulled into the station and I almost burst with excitement as we boarded. The journey only lasted about 3 minutes. We walked out of the platform to see a purple building with archways, where you were to present your tickets to enter. We were finally at Alton Towers!
I stood and stared as I took in my first sights of the area. Once all of my friends were with us we began deciding where to go. All the older kids wanted to go on Wicker Man. All of the younger children went to CBeebies Land with all of the adults that didn't want to ride. We walked through Mutiny Bay with my Dad reading the map and arrived at Wicker Man. Built of wood, the Wicker Man's head was alight with flames that looked scarily real. The waiting time said 0 minutes but we actually had to wait for about 30! As we queued the tribal music rang in my ears through loud camouflaged speakers. I couldn't decide whether I was excited or nervous.
Just when I felt more relaxed we were put into a dark room with lots of other people. Suddenly the doors snapped shut! Then blaring music and a bright hologram appeared on one of the stick walls. It began to explain story of the Wicker Man. The cart began to go slowly down the track and into a dark tunnel. Suddenly there was smoke in my face and we accelerated down the track at a speed I wasn't expecting.  I was relieved when I was able to get out into my cart!  When I got off I felt quite dizzy but energised.
Mum and I made our way to CBeebies Land to do some rides with my sister and Dad.  It took a while but we managed to find them in amongst the crowds. My sister wanted to show me and Mum some of the rides she'd already been on so we went on all of them. I was relieved when we got a message to say everyone else was going on Oblivion because I was looking forward to some high-impact ride after CBeebies Land.
Queuing for this ride was just as nerve-wracking as Wicker Man. But who could blame me? I was about to go onto the world's first vertical drop into a big, black hole. We didn't have to queue for long. I clambered into my seat and pulled my harness down tight. I wasn't taking any chances! Then we were pulled up the slope and we fell into Oblivion!
My stomach still felt a little weird after I got off. My friends went on some other rides whilst me and my family went alone to do some family rides.
Later that day we decided to go on Nemesis. This queue was by far the most nerve wracking. I couldn't take my eyes off of people spinning round on loop the loops and my ears just couldn't be pulled away from all the screaming and racket of those on the coaster. And then all of a sudden it was my turn. I was strapped in and ready to go. We climbed a hill and I felt sick as we spun round on a twist. Nemesis had begun.
After that ride I felt more dizzy than I had ever felt before. Don't believe me? Try it yourself! My family had to leave early because we had a booking at 'The Secret Garden Restaurant'. We got on the monorail and made our way to the resort.
It sat in one of the areas of the 'Splash Landings Hotel'. It was beautiful. It really looked like a secret garden and the food was great too, but maybe a bit high priced. After that we walked back to our lodges where we spent another few hours with our friends who had arrived back as well. And then all to soon it was time for some sleep.
***
The next morning was more of same. We went to 'The Crooked Spoon Restaurant' in the morning and then got ready to catch the monorail. However the queue was very long so in the end we walked to Alton Towers. It only took 15 minutes.
When we arrived my Dad and I were planning to go on Wicker Man but the queue was over an hour so we decided not to. We went with Mum and my sister to CBeebies Land where we met 'Peter Rabbit' and 'Uber-corn'.
Then 'Rita' opened. It was a roller coaster and it was the fastest in Alton Towers. You went from 0-60mph in 2.5 seconds! I got in the queue quite early so I didn't have long to wait. I pulled my harness down and my hair flew out behind me as the man on the speaker shouted:
"Go Go Go!"
I felt quite sick after that but only for a minute. My sister went with one of my Mum's friends while I went with Mum and Dad on 'Th13teen'. Th13teen was a horror ride and the queue was quite scary with dim lighting and a high pitched young girls voice which was a bit creepy. I was just feeling a bit better when I was told I had to go in the front row. Strapped in and ready to go, we went into the woods.
I felt okay after that but a bit freaked out. Anyway we went to collect my sister and we went with some of my friends on 'The Runaway Mine Train Rollercoaster'. My sister was allowed on this one and she was very happy about it! It was fast but much more relaxing than the other rides that I had been on.
After that we went on 'The River Rapids'. It was nice and calm, with a few bumpy bits but at least it let me breathe properly! We went on a few more family rides but eventually it was time for 'Galactica'. I was quite nervous about this one. You were lying on your stomach for the whole ride. Not to mention the loops and twists! We had to wait for a while but eventually we got on. I pulled my harness down and 2 metal bits clicked around my ankles to secure them. The seat tilted forward so that I was lying down and… we were off!
I loved that one. It was actually quite fun and you really felt like you were flying. But the worst was still to come. Just as I thought it was all over everyone decided that they wanted to go on 'The Smiler'.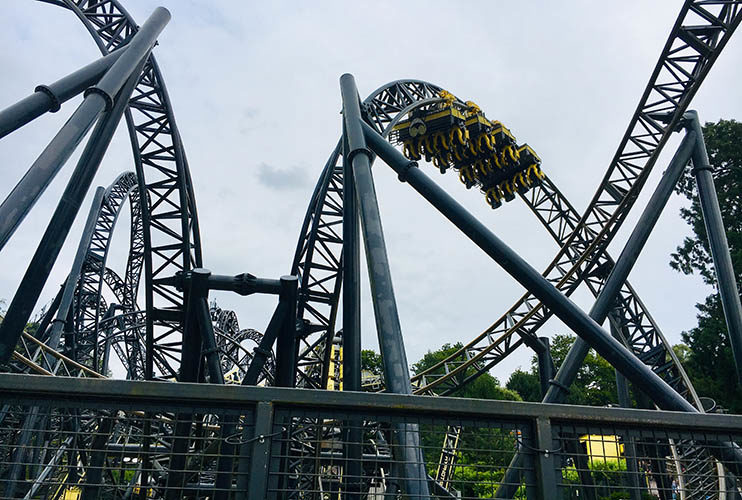 Now I really didn't feel very good! I was about to go on the biggest ride at Alton Towers which had 14 whopping loops and twists in it. I was by far not ready for this. The queue time before was up to 85 minutes but thankfully we managed to get on in about 30. It's not that long I promise. I climbed into my cart. I still didn't feel ready. I kept telling myself that will be fine but deep down my nerves were just creeping up my body. And then it began. Down into a dark hole we went and did a corkscrew in the pitch black. And then there was light and we began to climb 'The Smiler'.
It looks big, it looks scary, but actually it's the most amazing ride I've ever been on. I wish I could've gone on again but sadly my time Alton Towers was coming to an end. We began to walk up the hill into Towers Street to leave the park. As we got up the hill I turned around one last time to look at this amazing place. I was standing in the exact same spot that I was the first time I entered the park when I was taking in all the sights for the first time. And now I was taking them in for the last. I turned around and walked through the purple archway and we made our way back to the little ring of lodges where the little folk had just been out to play.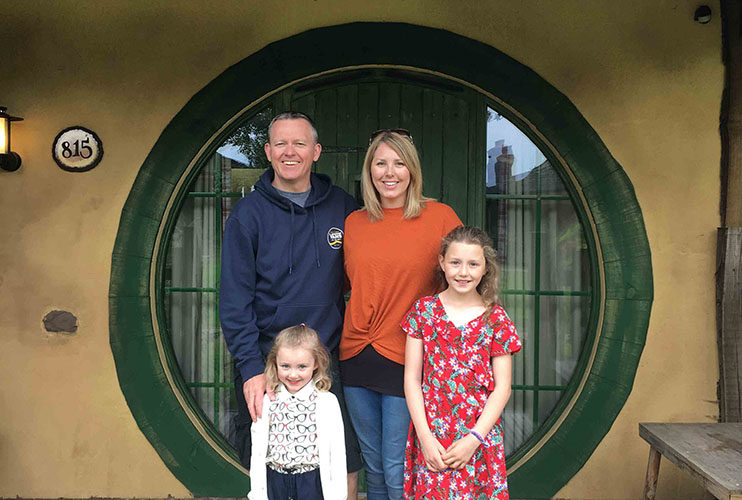 ---
About the Author
Amber McClintock, 10 years old.
Third Place Winner- The Tourist Trail Young Persons' Writing Competition 2019
"I'm a 10 year old girl from Aberdeenshire who has a passion for reading, writing, dance and llamas!"