---
---
About Southwold
Southwold lies in the centre of an area of great natural beauty – a paradise for the walker, the naturalist and the birdwatcher. Situated on a hill that gently rises from the Blyth Valley, the town is virtually an island, being surrounded by the River Blyth to the south and Buss Creek to the north. This has resulted in limited town development, helping to retain Southwold's old world charm.
The dramatic coastline and the town's beautiful architecture make it a popular attraction throughout the year. In the winter some of Southwold's most charming elements can be enjoyed – cosy pub lunches, isolated walks along the beach or a quiet browse in any of its many independent shops.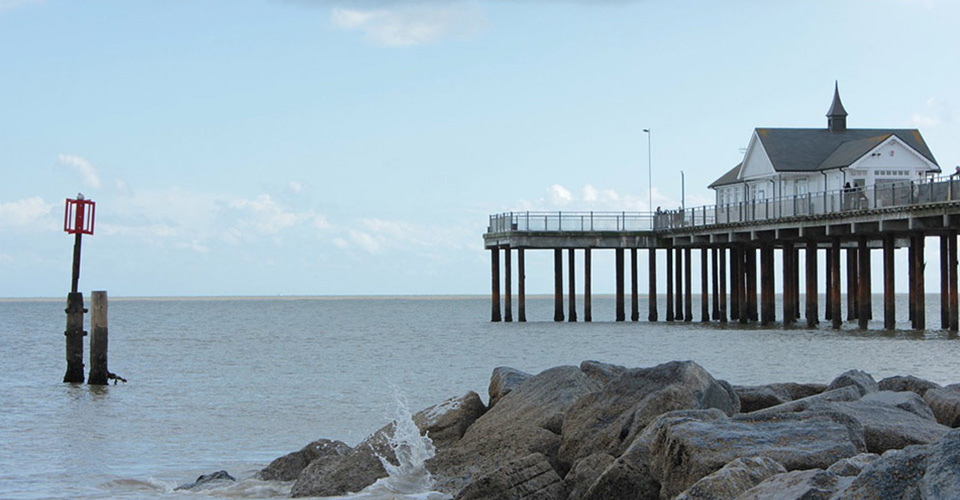 Things to do in Southwold
During the Summer Southwold's beach is immaculately kept and is a regular Blue Flag winner. The shore is famous for its rows of brightly coloured and highly sought after beach huts. These days they sell for the price of a small flat!
Those wanting to take to the sea try the Coastal Voyager. Offering 1/2 hour blasts around Sole bay, dog friendly river trips, 3 hour Seal and wind farm trips, Coastal Cruises or 1/2 or 1 hour drive of your life in which you take control of the boat under the instruction of the skipper.
In Southwold's town centre there's a great selection of interesting and independent shops, selling antiques, crafts and gifts, as well as a variety of boutiques, jewellers, and art galleries. Click here to read more about art exhibitions in Suffolk.
A firm favourite with the children (and the adults if we're honest) is the fantastic Beaches and Cream, a few minutes walk from the seafront. Offering something a little different to your average sweet shop. They specialise in Ice Creams, Ice Cream Milkshakes, sweets, snacks and drinks from around the world, including America, Australia, New Zealand, Japan, Thailand and many more, featuring brands such as Reeses, Mountain Dew, Twinkies, Nerds and more. They also have a wide range of souvenirs and beautiful gifts and beach items, and they even sell their goodies online!
One of these is The Amber Shop, which is the only museum in Great Britain designed and created to tell the story and history of Amber. The Amber Shop is Great Britain's oldest and largest specialist, dealing not only in modern amber but also antique and second-hand, including all forms of jewellery, carvings and objects d'art. Make sure you pop in and take a look at this unique shop and museum – you might find yourself taking home a rather expensive momento of your holiday!
Elsewhere in town look out for the Adnams Cellar & Kitchen stylish shop on Victoria Street. This was Adnams very first Cellar & Kitchen Store, the start of a growing chain of very successful stores focussing on top quality Kitchen ware and new discovering wines from winegrowers who are passionate about their land. So you're sure to find some interesting and unusual wines at the Cellar and Kitchen Stores.
As you'd expect, first class seafood can be found in the town's many fine restaurants and pubs, most of which serve ales brewed by the local – and world famous – Adnams Sole Bay Brewery. This simply must sampled on a visit. Adnams has been brewing from its base in the town for over 100 years and now has an estate of 80 pubs, two bespoke hotels and a chain of successful high quality wine and kitchenware stores. The brewery can be found on East Green, and you can see some its workings through an external glass wall. For more information on Adnams Beers & a tour of the brewery see their website – www.beerfromthecoast.co.uk
The Adnams stamp is everywhere and reflected in the cluster of great pubs: Sole Bay Inn, Lord Nelson, Harbour Inn and King's Head… You won't go thirsty in Southwold!
Down towards the Harbour and next to the beach, you will find the friendly Sail Loft, great for families and dog walkers, this trendy bar and restaurant with rooms offers delicious locally sourced brunch, lunch & dinners, homemade cakes and specials throughout the week including live music on a Thursday evening and a traditional roast on a Sunday. They also stock a selection of craft ales. They are open 7 days a week and have their own car park plus bespoke accommodation above the restaurant. To find out more, see The Sail Loft.
Another highlight in Southwold is The Pier which boasts two Restaurants, two Cafes, three Shops, the 'under the pier show' which features quirky handmade arcade machines, the famous water clock, and of course fabulous Panoramic views from the very end. There's plenty of outdoor seating and scrummy seaside snacks including hot chocolate, ice creams, sausage rolls and fish and chips or, the Boardwalk Restaurant serves an impressive selection of locally sourced food, including fresh fish.
On Victoria Street the Southwold Museum, once a weaver's cottage, houses an intriguing collection of artifacts from the town's past. After undergoing a big refurbishment in 2016, it was awarded the title of 'Suffolk Museum of the Year', and is well worth a visit. Usually open from April 1st and it offers free entry but welcomes donations.
Southwold's gleaming white lighthouse, built in 1890, stands 101 feet above the town. Its warning beacon can be seen for 17 miles out to sea. Visitors who climb the winding lighthouse stairs are rewarded with fantastic views. Join one of the regular tours.
Southwold looks out over Sole Bay, scene of an inconclusive battle in 1672 between the combined British and French fleet and the Dutch fleet. The town was once known for its herring fishery, and today the attractive harbour is still home to a little fleet of boats. Here you can buy freshly caught fish, and enjoy freshly caught fish and chips too!
To discover something of Southwold's maritime heritage visit the Sailors' Reading Room, on East Cliff overlooking the sea, where the exhibits include ship models, figureheads and early photographs of past seafaring local heroes. There's more maritime history to be found in The Alfred Corry Museum, at the end of Ferry Road, the resting place of Southwold's old sailing lifeboat, which saved 47 lives during its use between 1893 and 1918.
Staying in Southwold
If you'd like the complete seaside-life experience, talk to Acanthus Holiday Lets – a family run, central Southwold self catering business with over 20 years experience. They have a range of properties, many with sea views, pools, and dog friendly options. They also offer special offers throughout the year.
Suffolk Cottage Holidays have an amazing choice of around 200 charming self-catering holiday cottages and houses in beautiful coastal and countryside locations throughout Suffolk including Southwold, Aldeburgh, Orford, Woodbridge, Lavenham and Harwich. Their friendly, knowledgeable staff will help you find your perfect property in no time.
3 The Sandlings is a bright, airy holiday home suitable for two people on a romantic break. The sunny south facing courtyard is a great place to soak up some sunshine before heading out to the beach for the day.
Lighthouse View Cottage is a comfortable and welcoming, privately owned holiday cottage sleeping four people in two bedrooms. This early-Victorian cottage is by St.James' Green in the very heart of this attractive coastal town. From the front door it is just yards to the promenade and sea. Not only does Lighthouse View offer an excellent holiday location but Southwold's landmark lighthouse stands just over the wall of the cottage's rear courtyard. Car parking is freely available in the immediate area. Children over 4 years are welcome as is one well-behaved dog.
In a peaceful spot just 15 minutes walk from the hustle and bustle of Southwold, you will will find the Randolph Hotel in Reydon. Family friendly and perfect for a holiday, a celebratory meal, a venue for business meetings, or simply a pint of the local Adnams ale, the team will deliver excellent service, excellent food and an excellent experience. Special to the town is the Southwold Summer Theatre, with a season of children's performances, lunchtime events and evening theatre.
Southwold Concert Series
With music-making of the highest level the Southwold Concert Series has won many new fans since its inception by pianist and composer Nathan Williamson in 2008. A mix of grass roots traditional and progressive music, performed by a fusion of emerging talent and established provides an evening of quality enjoyment.
---
Things to do in and around Southwold