---
A brief history of Aldeburgh
Aldeburgh is a pretty coastal town on the river Alde and enjoys breathtaking views both seawards and following the river Alde inland towards Orford. Its name comes from 'Alde Burgh' meaning "old fort" and the town's history is closely linked to the changes time and Mother Nature have wrought to the coastal map.
Aldeburgh was once an important Tudor port and its shipbuilders were responsible for Francis Drake's 'Golden Hind'. But over time the River Alde silted up taking its toll on the town's fortunes, and coastal erosion swept away the heart of its old town. Some historic buildings have survived the centuries, such as 400-year old Moot Hall, the Norman Church and a Martello tower.
To find out all about the strange, circular look out buildings known as Martello Towers which are a feature of the East Anglian coastline, take a look at our article on Martello Towers, and to book a stay in the Landmark Trust's Martello Tower on the Aldeburgh Coast.
Aldeburgh had to wait until the 19th Century fashion for beaches and craze for sea air brought back visitors in quantity, establishing it as a popular seaside resort.
Things to do in Aldeburgh
Today Aldeburgh is famous for many things – good food, great fish & chips, Aldeburgh Music, Maggi Hamblings' Scallop on the beach, as well as a vibrant art and music scene. There are several Art Galleries in the town including one from Caroline Wiseman based in the iconic South Lookout. Keep an eye on Art Exhibitions for details of current Exhibitions.
The historic Jubilee Hall built in 1887 and nestled on the seafront, is home to the Aldeburgh Literary Festival which takes place every March, as well as many other music, performance, theatre, festivals, talks, fairs and more throughout the year. The Jubilee Hall has played an important part in the cultural history of Aldeburgh and continues to promote and support the arts,
Aldeburgh is also famous as the home of composer Benjamin Britten and his partner Peter Pears. There are many reminders of his life about the town and you can visit St Peter and St Paul's Church in the town where he is buried.
Every June a classical music festival takes place at nearby Snape Maltings. This festival was founded by Britten along with Eric Crozier and Peter Pears in 1948. It has taken place ever since and is a fitting tribute to the three.
One of the most controversial monuments celebrating the life of Benjamin Britten is 'The Scallop', created by local artist Maggi Hambling. This sea shell sculpture sits on Aldeburgh's beach to the north of the town. There have been petitions to have the shell removed as some see it as a blot on the landscape which is an Area of Outstanding Natural Beauty, but others feel it is a perfect reminder of Britten and a good tourist attraction!
Far from being a 'look, don't touch' piece of art, visitors are encouraged to sit on the Scallop and watch the sea. Britten himself loved the view so much he took a walk on the beach every afternoon.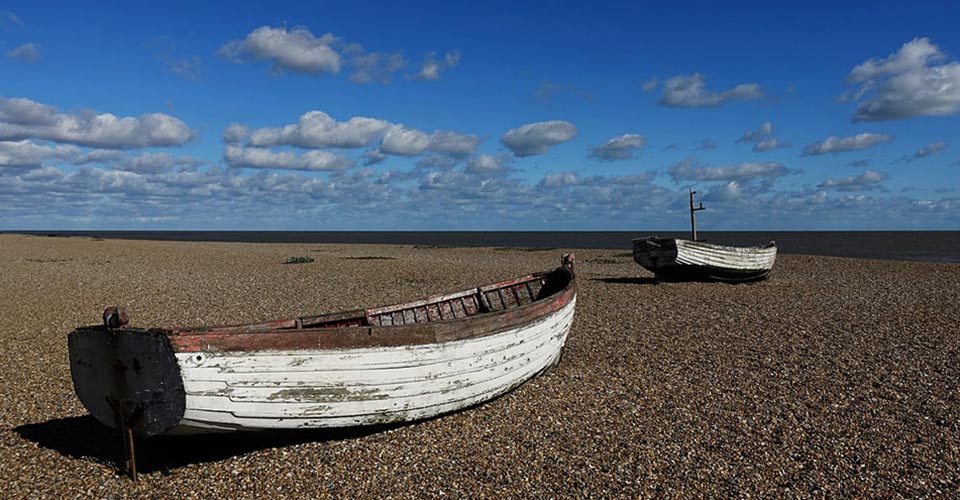 For weekend seadogs, Aldeburgh has a very active yacht club and teaches sailing to juniors and adults. There are also two popular golf courses, all-weather tennis courts, a boat lake and, of course, excellent swimming.
Aldeburgh's strong local community shares activities and knowledge with the visitor, providing poetry and arts and craft residential courses. The pretty high street has craft, food and antiques shops, independent boutiques as well as some national chains, plus a myriad of pubs and an independent cinema.
Be sure to put the Aldeburgh Market on your to visit list, situated on the High Street, a few yards from the seafront, this fantastic Deli offers extensive fish counter, fresh fruit and vegetables and dairy items from local suppliers including milk, cheese, yoghurts, freshly baked bread plus many more hand made and locally sourced products, there's even an award winning fish restaurant providing the freshest meals.
Aldeburgh certainly won't disappoint those looking for an active break. The River Alde itself offers opportunities for sailing. There are centres nearby that offer horse riding and even llama trekking. Bird watching is another local past time with RSPB Minsmere and Havergate Island both close at hand. Please see RSPB in Suffolk.
Looking for somewhere to stay in Aldeburgh? Then why not take a look at The Brundell Hotel. This iconic hotel is just a few steps away from the beach with panoramic views out to sea, the chic Brudenell Hotel is in a wonderful location to stay at on Aldeburgh's seafront. Another great option is The Wentworth Hotel which is a stone's throw from the beach enabling you to take advantage of the 35 luxury rooms, spacious lounges and the 2AA rosette restaurant all whilst enjoying the picturesque seaviews.
Another of Aldeburgh's claims to fame is one to sample at mealtimes. The town's fish and chip shop has been owned by the Cooney family since the 1970's and was described by 'The Times' as 'possibly the finest on the East Coast'. What better way to end an active day than with some local fish and chips?! If you are looking for something a little more formal then why not visit The Regatta Restaurant and enjoy tempting menus using delicious seasonal produce from local suppliers as well as enjoying a warm welcome and excellent customer service.
---
More Things to do in Aldeburgh