It's not hard to see why Cornwall is one of the most popular holiday destinations in the UK. It's the county with the longest coastline in Britain, with over 400 miles of beaches and cliffs. Cornwall is the UK's surf capital, so water sports is a must. As well as glorious coastline, Cornwall is also home to vast moorland, green countryside, seaside towns and villages and a fantastic food and drink scene. Want to make your getaway even more special? Check out these top picks of quirky and unique places to stay in Cornwall.
Coastal Valley Camp & Crafts
Coastal Valley is a small family campsite set in Newquay, Cornwall's sought after holiday destination. The site has three beaches within walking distance, so it's a great spot for a beach getaway. There are a range of unique accommodation options on the site, from a converted library bus to a safari tent. The real draw to this campsite is the range of creative and affordable craft workshops. Unleash your creativity with courses and activities including willow weaving, slate painting, marbling, silk painting and recycling crafts.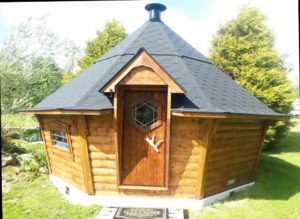 Millbrook Cottage Yurt
Millbrook Cottage Yurt is a genuine Mongolian yurt with ornate hand-carved frame, rock wool insulation and waterproof cover. Set within a secluded garden with a bridge and stream, it's a tranquil space for those looking for a peaceful getaway. The yurt sleeps four with two double beds, and has plenty of cosy rugs and furnishings, sofa, table and chairs, and books and games. Nearby is a composting toilet with an outdoor heated shower. There's also a camp kitchen with the basics you need.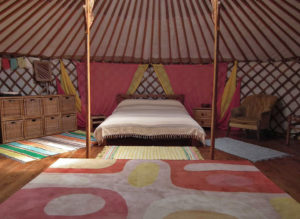 The Observatory – Frieda & The Moon
The Observatory is a unique copper, zinc and lead building set in a secluded wooden paddock. This retreat has a unique design throughout, from the stained glass portholes representing the phases of the moon, to the huge Nautilus shell carved into the bed head which mirrors the spiral galaxies. As you lie in bed, gaze up at the stars through the sky window. The home has everything you need, with a walk-in shower, sink and toilet, cosy lounge filled with antique furniture and trinkets, and outdoor hot tub and fireplace with seating.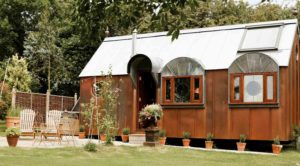 Kudhva
Kudhva is an incredible, almost futuristic accommodation. These unique architectural cabins have been designed for the quarry rich environment they inhabit. These hideouts are raised high above the ground, standing on wooden legs with floor to ceiling windows to maximise the views. The site is also home to a Danish wooden cabin with walls that raise or slide to open, combining indoor and outdoor living. There are also tentsile hanging tents which allow you to camp above ground.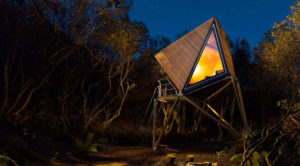 Beaumist Orchard
The Daffodil Hut on Beaumist Orchard is the perfect place to experience the Cornish countryside. The bright blue hut features a large double bed, an ensuite, a kitchenette, and a comfy lounge area with a sofa and table. The hut brings the outdoors inside with soft furnishings with beautiful floral designs. Outside there are two balconies, hot tub, fire pit and a seating area with a BBQ. The hut sits in an orchard within a wooded valley. There's plenty of woodland walks nearby with excellent views of Dartmoor.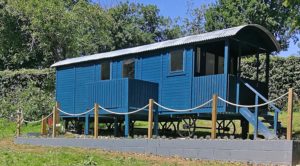 The Chapel at Gorran
This 200 year old converted chapel is one of the most unique places to stay, with original period features including stained glass windows, pulpit and organ. Sleeping up to nine people over three bedrooms, it's perfect for families or large groups. There is also a fully-equipped kitchen that comes with two large dining areas. The highlight of the property is the stunning old chapel room. With surround-sound HIFI, 55" TV and a kid's den hidden underneath the TV, it's the perfect place to relax. Surfboards, wetsuits and other beach equipment are provided for free. The property is only a five minute drive to Caerhays Beach & Castle as well as the Lost Gardens of Heligans.
Okel Tor Mine
This is actually two holiday cottages set on the site of a former Victorian tin and copper mine. The two historic buildings – The Count House and The Smithy – have been converted into self-catering cottages. Each sleep two, so are perfect for a romantic getaway. Both have king-sized double bedrooms with shower rooms, as well as cosy open plan living areas complete with wood-burning stoves, comfy sofas and rugs. Each cottage is screened from each other for extra privacy, so you can enjoy unspoilt sweeping views over the River Tamar and tree-covered hillsides.
The Floathouse
The Floathouse is a family boathouse on the Penryn River, not far from Falmouth. It can sleep six people over the three cabins below deck. On the top deck is a large open plan living space with a kitchen, huge corner windows, comfy seating and a cosy woodburner. It leads out onto a decked area which is perfect for sunbathing. There is also a generously sized family bathroom with a bathtub. There is a rowing boat that comes with the property, so you can row out to the nature reserve and spot wading birds and the occasional otter.
Okeltor Boathouse
This unique waterside accommodation is built within the walls of an 18th century granary. Situated within the Tamar Valley AONB and World Mining Heritage Site, the property is a comfortable and peaceful retreat close to Dartmoor National Park. It comes with its own quay so you can explore the river with your own boat. The property sleeps four people over two bedrooms, and includes a bathroom and a lounge, dining and kitchen area overlooking the river. There is a south facing balcony which is perfect for warm summer evenings and al fresco dining. Cook up a storm in the unique BBQ located in the chimney of a ruined cottage. You'll find several National Trust sites in the area including Buckland Abbey, Cotehele and Cotehele Mill.