---
The South West of England covers an incredible section of the UK, including the thriving city of Bristol, coastal counties of Devon, Dorset and Cornwall, as well as beautiful Somerset, the Cotswolds and enchanting Isles of Scilly.
Home to many famous landmarks, stunning coastline and interesting places to visit, you won't be stuck for things to do in the South West. From Glastonbury Abbey and Wells Cathedral to the side-by-side beaches of Gwithian and Godrevy Towans, choose to spend your time exploring this wonderful part of the country, with a never-ending bucket list in your pocket.
For unusual days out in the South West, look no further than these 6 hidden gems we have picked out, giving you a taste of what's on offer in this fabulous corner of Britain.
---
1. Bowerman's Nose, Dartmoor, Devon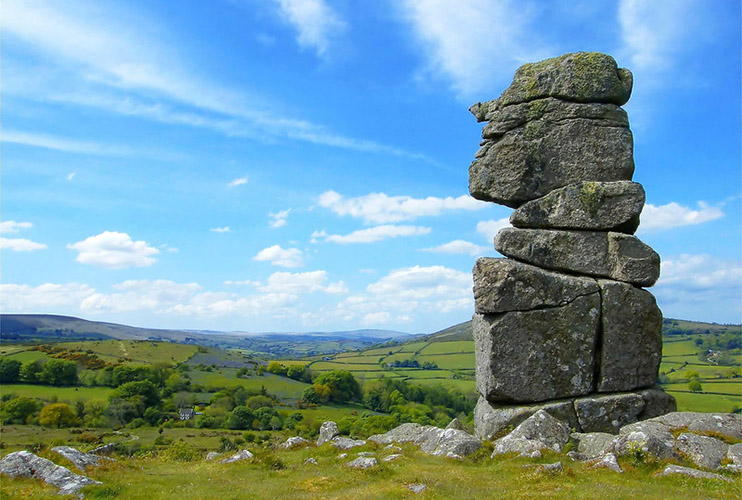 CC BY-SA 2.0 Mark Coleman
The first is Bowerman's Nose, located among the flourishing countryside Devon has to offer. What may seem like a cluster of rocks stacked neatly together, surrounded by the wild, rugged landscapes of Dartmoor, is actually part of a legend that haunts the eastern edges of the National Park.
This weathered, human-like column comes with a mysterious tale of a hunter, who was out with his hounds one day when he came across a circle of witches conjuring up a spell. The hunter, named Bowerman, was known for his clumsiness and so the story goes, he caused their cauldron to flip on its side, which angered the witches and provoked them with vengeful thoughts. One of the witches turned herself into a hare, which encouraged the hunting party to chase her right into a mire. Bowerman and his hounds found themselves surrounded and were all turned into stone for his carelessness.
---
2.  Old Harry Rocks, Isle of Purbeck, Dorset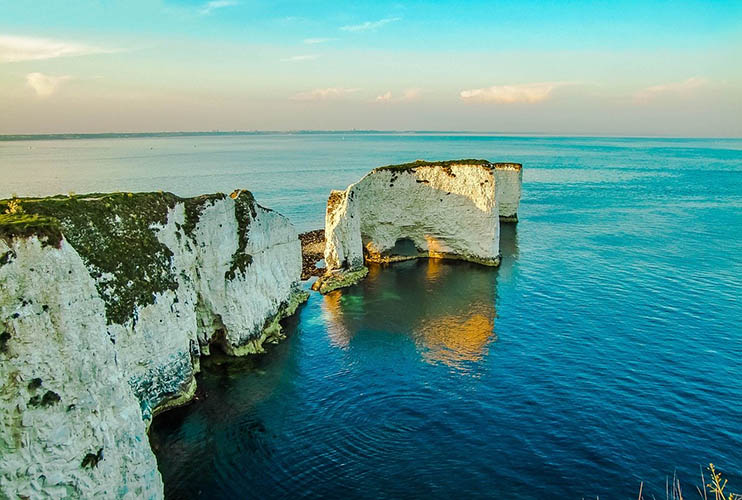 If you are looking for places to visit in Dorset, nestled on the magical Isle of Purbeck is Old Harry Rocks, a stunning landmark positioned at the end of the Jurassic Coast. These towering rock formations are completely chalk and have been in existence for millions of years, originally developed from the build-up of plankton and other microorganisms. Take a stroll from South Beach car park or hike the full National Trust walk to find this mesmerising landscape and snap a holiday photo with your family and friends.
---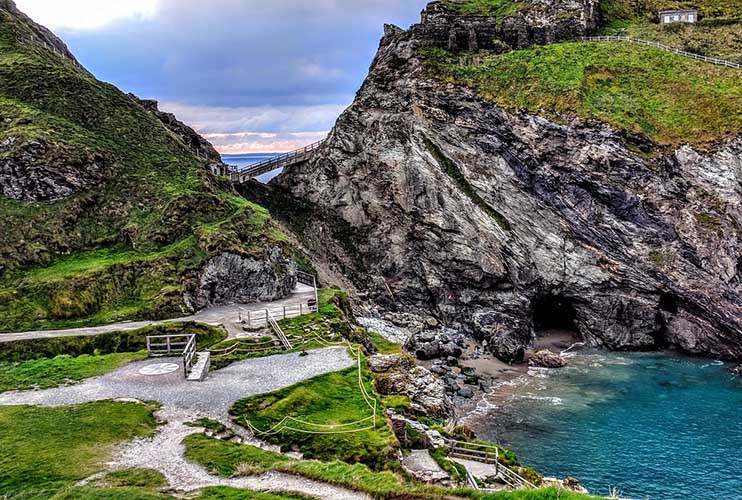 Perhaps you are holidaying in the midst of Tintagel Castle in Cornwall, where you will find the curious Merlin's Cave, set within the craggy headland on which this famous castle stands. This intriguing cave creates an eerie atmosphere as you step down to its opening, as it comes with a legendary tale associated with King Arthur. You've probably heard the tale of the wizard Merlin, well it is believed that he once lived under these coastal cliffs. The story of course is a little farfetched, however this hasn't stopped it from becoming rather a popular tourist attraction in Cornwall. Artist Peter Graham had a request from the locals to carve the bearded face of Merlin into the rock near one of the entrances. Visitors can now relive the tale of how a young boy Arthur was once carried to shore in the arms of a wizard, later to become a courageous king. While you are in the area, discover many more things to do in Cornwall and plan the ideal trip.
---
4.  King Arthur's Tomb, Glastonbury, Somerset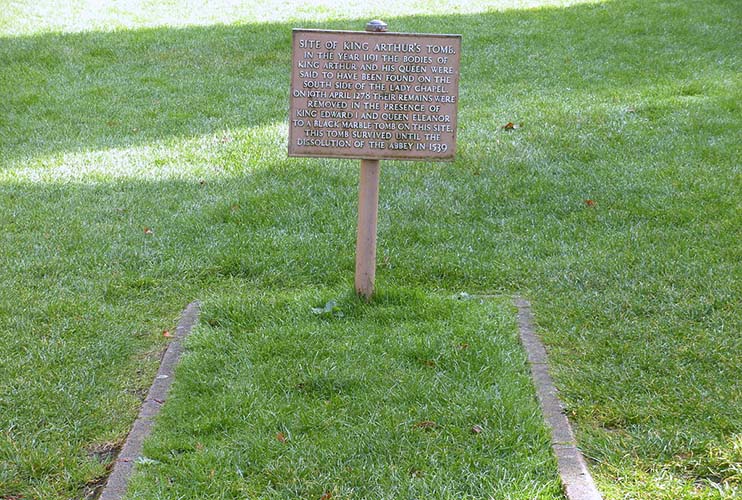 CC-BY-SA-4.0 PrinceValliant
In keeping with the theme of the historic tale of King Arthur, located at the majestic Glastonbury Abbey in Somerset, is the site of King Arthur's Tomb. The ruins of the abbey are a must-see and to visit the tomb, you do have to pay admission at the entrance, however whilst you are there you can explore the rest of what the town has to offer. According to history, the two bodies believed to be King Arthur and his wife Guinevere were found by monks at the abbey in 1191.
---
5.  St. Edward's Church, Stow-on-the-Wold, Gloucestershire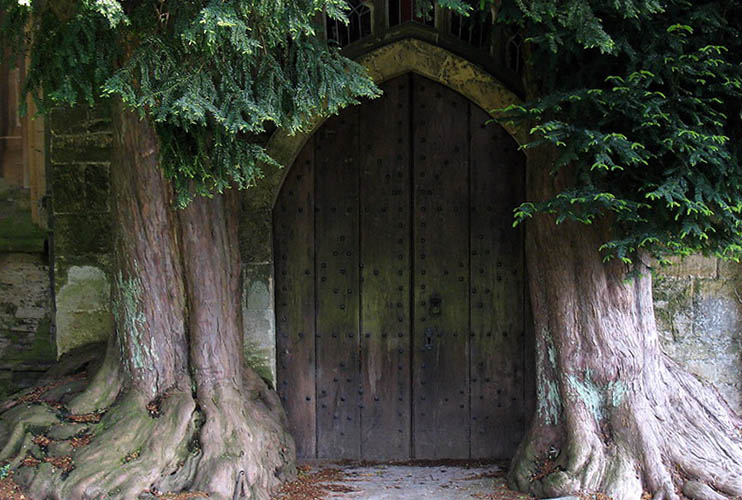 CC BY-SA 2.0 Spencer Means
Positioned in the Gloucestershire town of Stow-on-the-Wold is the Church of England parish St. Edward's Church, whose entrance door looks as though it should open up into another magical world. This arched door is confined by two ancient yew trees either side, beckoning its visitors to use their creative imagination and picture a whole other realm if they were to walk through. There is noise from the locals around whether this is what inspired J.R.R Tolkien's Doors of Durin, which were too beautifully designed and flanked by trees.
---
6.  Bishop Rock, Isles of Scilly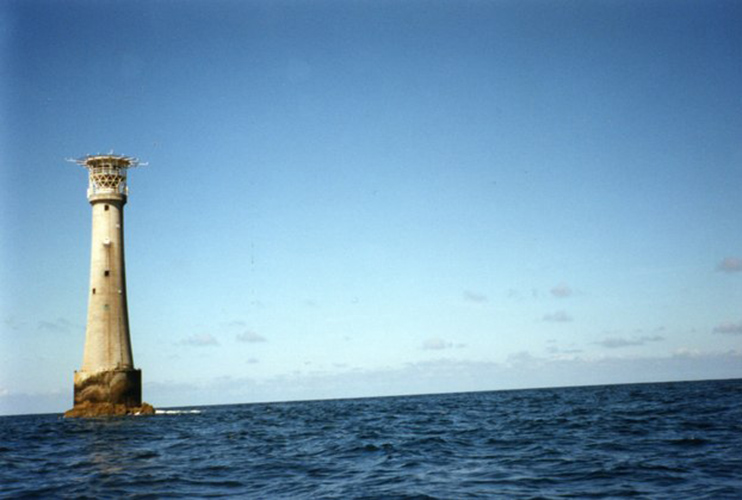 CC BY-SA 2.0 Alan Heardman
If you plan to travel to the South West coast of England, to the magnificent Isles of Scilly, you should know that Bishop Rock is the smallest of them all, measuring under 8,000 feet at low tide. This tiny island is home to a humble lighthouse, which was once inhabited by a small team of keepers until it became automated in 1991. Built in 1858, this is now served as not only a beacon to navigate sailors, but as a guesthouse for a small group of four, willing to take to the sea and brave a night in total isolation. At high tide, there is barely any land left to step a foot outside.
---
We hope you have enjoyed reading about these South West England destinations and found these hidden gems as interesting as we have. If you are hoping to get away to this part of the country, there is plenty of accommodation nearby, including a fabulous selection of self-catering South West holiday cottages to choose from. Pick the ideal place to relax on return from a fun-packed adventure and enjoy the holiday of a lifetime with your family and friends.