"I am not a glutton. I am an explorer of food." – Erma Bombeck…I think Erma and I would get along.
My penchant for a good meal has taken me to many tables and has seen me investing in a few loose-waisted dresses along the way. I love good food, and when you manage to marry it with a beautiful setting, there are few things more delighting.
Thankfully, myself and the team at Luxury Coastal are often on the road, and we therefore get to stop off (there has been the odd luncheon enjoyed too), in some of the prettiest towns and villages in the south west.
---
Beachside Grill in Braunton
Seafood served on the beach is pretty much the way it should be done, and if you're fond of a plateful of freshly prepared ocean fare with a sea view thrown in, Beachside Grill (to coin a phrase), ticks all the boxes. Overlooking one of the best beaches at Braunton in North Devon the atmosphere is casually cool and along with delicious fish dishes, you'll be able to tuck into a variety of meat or plant-based offerings like the Burnt Brisket Ends Burger or Spiced Cauliflower Steak.
If you're a dog owner, you'll find that the beach at Braunton and nearby Saunton are top notch for a good day out; and if you're looking to make a weekend of it, the luxury lodges at March End welcome two dogs and have fabulous hot tubs to boot.
Paul Ainsworth At No6 in Padstow
If you like a Michelin star on the door of your eatery of choice, Paul Ainsworth At No6 boasts a very shiny one. Set in one of the best-known and best-looking fishing towns in all of Cornwall, the restaurant can be found alongside the town's famous harbour in a beautiful Georgian townhouse. In addition to its beautiful beaches and a bustling atmosphere, Padstow is also a foodie haven, with a handful of acclaimed chefs having opened their own restaurants here. Serving up a pioneering menu of locally sourced dishes, guests at No6 can look forward to experiencing creations like Kelp-cured Steamed Cod and All of The Duck.
Fancy finding your own foodie adventure in Padstow? Both cool and bijou, Stargazy is nestled in the very heart of the town just a short stroll from all of its fabulous eateries, and makes for the perfect hideout for two.
The Seahorse in Dartmouth
The waters of the River Dart have been enticing the boating fraternity for decades, and this lovely riverside town is a popular holiday spot for seafarers and land-lovers alike. Made famous by its Royal Naval Academy and peppered with boutiquey shops and cosy pubs, it's quaint layout and cobbled streets give its town centre an enchanting atmosphere.  Fresh seafood is caught daily in the waters of the bay, and The Seahorse's menu ensures that, whatever was landed that morning is what lands on your plate. Grilled over a charcoal fire and accompanied by a fantastic selection of wines, expect mouthwatering local produce that couldn't be fresher.
A short drive away you'll discover an awesome stretch of coastline that meanders past the wonderful beaches at Blackpool Sands and Slapton, ending in the quiet village of Torcross. And if a beachy break is your thing you won't find a place closer to the sea than At The Beach; which is exactly where it is!
The Elephant in Torquay
A trip to the palm tree-lined English Riviera wouldn't be complete without a luncheon (and a bottle of wine) at The Elephant in Torquay. This popular holiday resort town has a vibrancy that is loved and frequented by locals and out-of-town visitors alike. Situated on a bustling corner overlooking the aquarium at Living Coasts, this relaxed coastal eatery has retained its Michelin star for 15 years and offers a mouthwatering menu that includes Paignton Chilli Crab Ravioli, Glitne Halibut and Muscovado Sugar Tart. Children are welcomed too, and I can almost guarantee there won't be any leftovers on their plates for you to pick at!
If you and your clan are thinking of making a sunny sojourn to this vibrant town, Vane Tower is a mere four minutes' walk from The Elephant and has extraordinary views over the marina and out to sea.
The Bear and Blacksmith in Chillington near Kingsbridge
A little over five miles from the bustling town of Kingsbridge lies the laid back (and appropriately named) village of Chillington in South Hams. Surrounded by pastoral land and sprawling countryside, the village is also close to some of the best beaches in the area including the stunning Bantham Beach and South Milton Sands. The town of Kingsbridge is a dream destination for families, and with plenty of water and land-based adventures to embark on, working up an appetite is par for the course. This village pub has been revamped into a modern eatery but thankfully still retains plenty of cosy character. Sourcing most, if not all of its produce from its own kitchen garden and farm as well as from local fishing boats, the pub offers decadent plates of food that include Shoulder of Bear & Blacksmith Farm Lamb and Salcombe Lobster – yum!
Perfectly marrying country life and coastal living, West Charleton Grange is a gorgeous place to spend time with the family, and if you're looking to experience this glorious part of South Hams in complete luxury, we highly recommend a visit.
---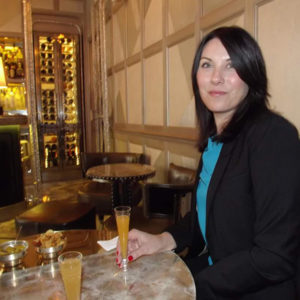 About the Author:
Larah Walker – Marketing Executive at Luxury Coastal
Larah has a passion for travel and is a part of the team at Luxury Coastal, a new self-catering agency offering guests the finest collection of cottages, lodges and apartments in the South West's most stunning locations. She enjoys discovering beautiful, locally made things, trying out new recipes and spending as much time as possible with family.