Celebrating Valentine's Day in Suffolk
Valentine's Day is all about what you make of it.
We've put together a list of places in Suffolk that would make a special place to take you're loved one to celebrate Valentine's Day. There's a range of locations and cuisine types to make use of below as well as places to buy that 'special' gift.
Want to add a business offering Valentine's Day menus or offers to this guide? Simply email us here with the business name, location, cuisine type and contact details.
---
The Suffolk Platter | Bury St Edmunds
The Suffolk Platter, Bury St Edmunds
The Suffolk Platter is a family run catering company with a food passion like no other. Striving to make your event the best it can be with our unique style to impress. Catering for events such as Valentine's Day, Parties, Weddings, Funerals, Afternoon Teas, Baby Showers, Corporate Events & Children's Parties.
Valentines Bouquets from £45.
Contact to order – [email protected] | Visit website here.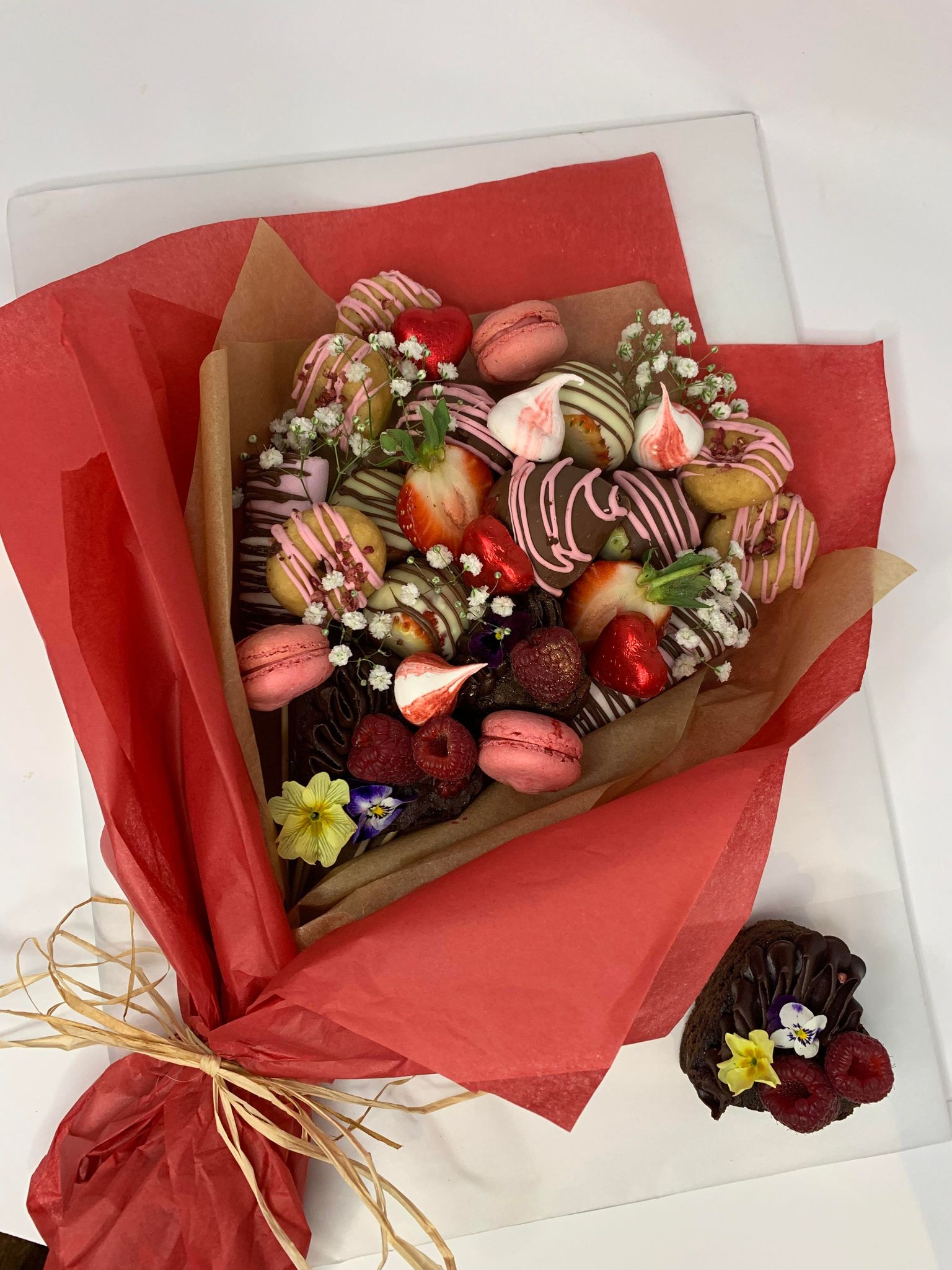 Sweet Bouquet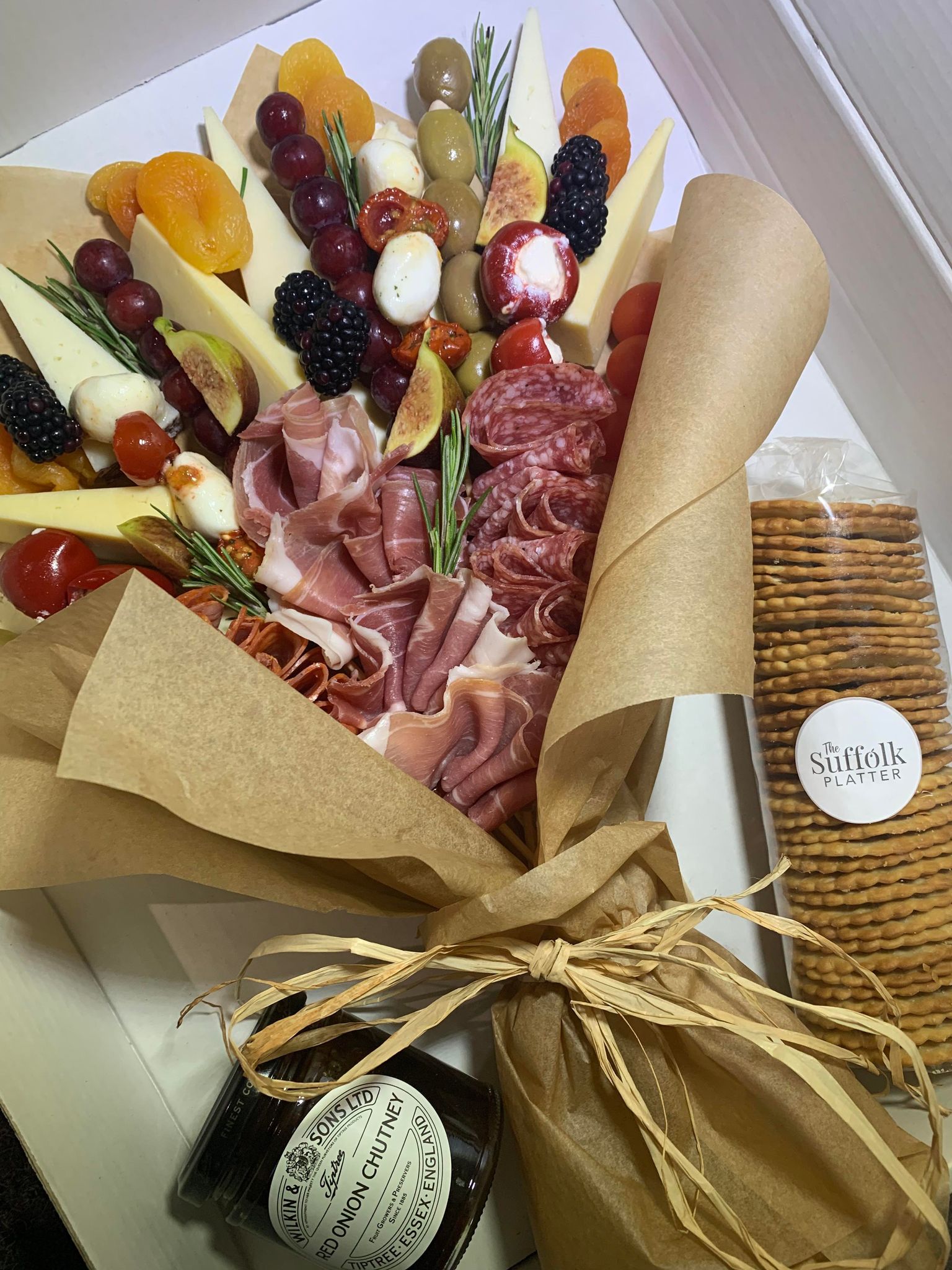 Cheese and Charcuterie Bouquet
---
Valentines Day with Irie J | Venue 16
312 Tuddenham Road, Ipswich, IP4 3QJ
Treat your loved one this Valentines Day with a three course meal, a bottle of wine or prosecco and the beautiful, soulful voice of Irie J.
At a price of just £59.95 per couple – it's an absolute bargain.
Doors are open from 7pm.
To purchase your table, call our restaurant or events team on 01473 250 816 or email [email protected]
Monday, 14 February 2022 from 19:00-22:30
https://venue16.co.uk/venue-events/valentines-day-with-irie-j-monday-14th-february/
---
St Valentines Day | The Unruly Pig (Bromeswell)
ORFORD ROAD, BROMESWELL, NR WOODBRIDGE, SUFFOLK, IP12 2PU
Celebrate St Valentine's Day in style and treat the one you love to a delicious  meal at Suffolk's only UK Top 50 Gastropub.
We offer a choice of two delicious menus:
St Valentine's a la carte menu
For that something extra special, also our St Valentine's 'Be Unruly' menu (which needs to be taken by the whole table please):
Reserve your table online by clicking here.
---
Valentine's Day | Milsom Hotel
Le Talbooth | Maison Talbooth | The Pier | Milsoms | Kesgrave Hall
Whether you're looking for a romantic meal for two on the night itself, a fabulous party or simply a special night away during February, we're sure you'll find the perfect option from our range of offers and events.
We have something going on at all our hotels during February – choose from the Valentine's Ball in The Hangar, a special Valentine's menu at The Pier, enjoy a Month of Romance break at Maison Talbooth or take advantage of the Fabulous February package at Milsoms, The Pier and Milsoms Kesgrave Hall.
https://www.milsomhotels.com/valentines-day-events/
---
Haughley Park brings back 'Valentine's' illuminations for 2022
The popular after-dark event will take place throughout February and people will be invited to explore the usually-private Suffolk estate as they follow a magical, illuminated trail through its extensive gardens and grounds.
A gentle musical score accompanies the tour and a warming range of food and drink will also available along the way.
The event runs each Friday, Saturday and Sunday in February, with entry times between 5.30pm and 7pm.
The estimated walk time is 60-75 minutes and the trail is wheelchair accessible.
Dates & Times: 4th – 27th February 2022 | 5.30pm – 7pm
Booking is now open on the Haughley Park website.
---
Places to Stay in Suffolk
---
The Turks Head | Woodbridge
The Turks Head, Hasketon, Woodbridge IP13 6JG
Offering a wide range of Valentine's food options. See the link below to find out more.
More Information:
https://www.facebook.com/theturksheadhasketon/
---
Capel Bakery | Capel St Mary
Celebrate Valentines Day in the comfort of your own home!
We are offering a Afternoon Tea Box for 2
More Information:
01473 311 494
https://www.facebook.com/CapelBakerySuffolk/
---
The Suffolk Platter | Bury St Edmunds
The Suffolk Platter has put together a pair of platter boxes that are perfect for an at-home Valentine's Day this year. For £35, the sweet graze platter comes with an assortment of goodies including a double chocolate heart brownie, a strawberry and chocolate cake jar, two chocolate chip fondant cookies, cake lollies, mini doughnuts and more. Inside the £45 savoury bouquet is a selection of cured meats, cheeses, antipasti, fresh and dried fruit, pickles, chutney and biscuits. Orders to be made by 7th February.
More Information:
07919 177688
https://www.facebook.com/TheSuffolkPlatter/
---
Runaway Bakery | Gedding
Offering a sweet 'smashable' heart for £20.
More Information:
07581 374177
https://www.therunawaybakery.co.uk/
---
The Mariners Freehouse | Trimley St Mary
193 High Road, Trimley St Mary, Felixstowe, Suffolk, IP11 0TN
The Mariners Freehouse are currently open for pre order and collection of a set menu.
More Information:
01394 640 444
https://www.marinersfreehouse.co.uk/
---
The Blue Naan | Felixstowe
7 Hamilton Rd, Felixstowe, IP11 7AX
The Blue Naan is open for delivery and collection, during the following times:
Monday Closed (except Bank Holidays)
Tues – Thurs | 5:00pm – 10:30pm
Friday | 4:30pm – 11:00pm
Saturday | 4:30pm – 11:00pm
Sunday | 3:30pm – 9:30pm
More Information:
---
Places to Visit in Suffolk
---
The Galley | Woodbridge
21 Market Hill, Woodbridge, Suffolk, IP12 4LX
The Galley are currently offering delivery of their international cuisine on Fridays and Saturdays.
Choose from a three course set menu (delivered cold, ready to be reheated at home) and a bottle of wine.
OPENING HOURS
Friday Dinner: 6.00pm to 8.30pm
Saturday Lunch: 12.00pm to 2.00pm
Saturday Dinner: 6.00pm to 8.30pm
More Information:
---
Valentines Day | The Moon & Mushroom Inn (Ipswich)
High Rd, Swilland, Ipswich, IP6 9LR
Come and join us at the Moon and Mushroom for your Valentine's evening! We will be doing a set menu plus some specials for couples to share, accompanied by live music from Rochelle, singing ballads from the 40's to the present day.
More information
https://www.themoonandmushroom.co.uk/
---
Kingfishers Community Kitchen | Cretingham
Swan Lane, Cretingham, Woodbridge, Suffolk, IP13 7BA
Kingfishers Community Kitchen have launched a project to help the most vulnerable people in the local area.
They are offering delivery of subsidised, frozen home cooked ready meals to the over 70s, those in financial hardship, frontline NHS staff, and self isolating households.
For just £25, the most vulnerable will receive 7x frozen home cooked complete meals, delivered to their door. All 7 meals will be delivered at the same time, in one drop.
The service is currently focusing upon the areas of Cretingham, Easton, Ashfield, Saxtead, Letheringham, Brandeston, Kettleburgh, Hoo, Charsfield, Dennington, Earl Soham, Monewden, Framsden, and Otley.
Orders can be made over the phone or via email, with payment made over the phone.
More Information:
01728 685275
[email protected]
https://www.kckitchen.co.uk/
---
Emmett's Store | Peasenhall
Emmett's Store, Peasenhall, Suffolk, IP17 2HJ
Smokehouse
Charcuterie
Groceries & Larder
Cheese
Confectionery
Drinks
Gifts
The shop is open and well stocked.
More information:
01728 660250
---
The Dog at Grundisburgh | Woodbridge
The Green, Grundisburgh, Suffolk, IP13 6TA
Our pretty village pub is located in Grundisburgh, just 2 miles from the market town of Woodbridge and not far from the suffolk coast. At our pub we try to keep things traditional we do have a restaurant and also have retained our tiled public bar with its cosy log burner.
More Information:
https://www.grundisburghdog.co.uk/
---
The George at Hintlesham
The George, George Street, Hintlesham, Ipswich, Suffolk, IP8 3NH
The George are delivering classic pub dishes to addresses in Chattisham and Hintlesham.
Available at the following times: Tuesday – Saturday 5pm – 7:30pm, Sunday 12:00pm – 3:00pm.
More Information:
01473 652408
---
Places to Eat & Drink in Suffolk
---
Casa | Bury St Edmunds
98 Risbygate Street, Bury St. Edmunds, Suffolk, IP33 3AA
Mediterranean cuisine, with high quality ingredients and a flexible approach to dietary requirements.
More Information:
---
The Walnut Tree | Ipswich
THE WALNUT TREE THWAITE, Norwich Road, Thwaite, Eye, IP23 7ED
Vegetarian, vegan, and gluten free pub food.
The Walnut Tree are currently offering a pre-order and collection service of frozen vegan gluten free Redi-Meals, including Vegan pizza.
Call to order and arrange a collection time. Collection times will be staggered so that there will only be one customer collecting at any one time.
More information:
01449 766003
https://www.thewalnuttreethwaite.com/redi-meals/
---
Bistro on the Quay | Ipswich
3 Wherry Quay, Ipswich, IP4 1AS
Each of our menus are seasonally crafted, using local suppliers around Suffolk to create exquisite dishes.
We also welcome you to join us at our new Wine Boutique located on the first floor at the Bistro.
More information:
---