This guide covers all sorts of Christmas 2021 events in Hampshire, from handmade craft and gift markets to festive food and drink festivals, so if you're looking to sample some festive treats or find the perfect unique gift, you will be all set with the information you need.
This guide covers the whole of Hampshire, so regardless of whether you are in Winchester, Alton, Basingstoke, Brockenhurst, or anywhere else in Hampshire, you can find the best Hampshire Christmas events.
For year-round events, read our 'What's On in Hampshire' guide.
Or keep reading for Christmas events in Hampshire…
---
Winchester Science Centre, Telegraph Way, off Alresford Road, Winchester, SO21 1HZ
Enjoy the sights, sounds and science of Christmas past…way past.
Dino rangers have sprinkled prehistoric cheer around the Science Centre ready for a Jurassic adventure.
From Saturday 27 November to Sunday 16 January get set to enjoy a roar-cus festive season filled with T-riffic fun, dino-mite demos and a special guest appearance from Santa himself (4 to 23 December in the free science show).
Learn more about the Science Dino-mite here
---
Hawk Conservancy Trust, Visitor Centre, Weyhill, Andover, Hampshire, SP11 8DY
Wednesday 22 December, 11:30am-1:30pm, 3-5pm or 6:30-8:30pm
Evergreen, the mischievous Elf, is up to his old tricks again! Last year, he missed meetings with Big Foot and the Snow Queen, told 'rude' jokes and needed to learn how to wear his uniform properly – fortunately Ennis the Great Grey Owl helped him there. He got his just desserts though with a custard pie splat!
Learn more about Hawk Conservancy Trust here.
---
Winchester Cathedral, Inner Close, Winchester, Hampshire, SO23 9LS
Founded in 2006, Winchester Cathedral Christmas Market is recognised as one of the best in Europe due to its unique location, high quality exhibitors and bustling atmosphere. Christmas gifts, decorations and festive foods can be found in abundance.
Winchester Cathedral's Christmas Market is inspired by traditional German Christmas markets and attracts more than 350,000 visitors each year.
The pretty wooden chalets are situated in the Cathedral's historic Close. All exhibitors have been hand-picked for their interesting, high quality and unique products many of which can't be bought on the high street.
Many of the Christmas Market's exhibitors will be attending for the full duration but some will only be here for the first half with new exhibitors filling the chalets for the second half.
Dates: 19th Nov – 22nd Dec 2021
Times: Sunday – Wednesday 10.00am-6.30pm | Thursday – Saturday 10.00am-8.00pm
Learn more about Winchester Cathedral Christmas Market here
---
Mid Hants Railway 'Watercress Line', The Railway Station, New Alresford, Hampshire, SO24 9JG
IT'S BACK! STEAM ILLUMINATIONS IS EVEN BIGGER THAN BEFORE! Steam Illuminations is a unique Christmas, pixel mappable digital LED train! It's an incredible light show on and in a steam train, consisting of thousands of fully controllable colour mixing LED lights and LED wristbands.
This makes the train look magical both inside and out! Marvel at the wonderful light show with different colours and flashing patterns, whilst sitting back and relaxing on one of our steam trains as it travels up and down our 10 mile line.
Dates: 26 Nov 2021 – 2 Jan 2022
Times: Monday – Sunday 3:50pm – 10pm
Learn more about Steam Illuminations at Mid Hants Railway 'Watercress Line' here
---
Places to Stay in Hampshire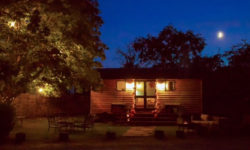 Chestnut Shepherds Hut | Hampshire
Vicarage Farm Business Park, Winchester Road, Fair Oak, Hampshire, SO50 7HD